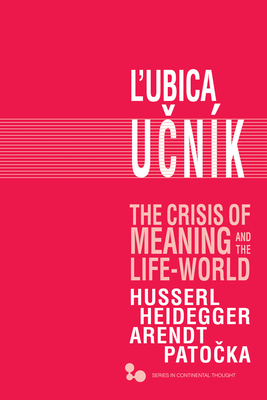 The Crisis of Meaning and the Life-World
Husserl, Heidegger, Arendt, Patocka (Series In Continental Thought #49)
Hardcover

* Individual store prices may vary.
Description
In The Crisis of Meaning and the Life-World, Ľubica Učník examines the existential conflict that formed the focus of Edmund Husserl's final work, which she argues is very much with us today: how to reconcile scientific rationality with the meaning of human existence. To investigate this conundrum, she places Husserl in dialogue with three of his most important successors: Martin Heidegger, Hannah Arendt, and Jan Patočka.
For Husserl, 1930s Europe was characterized by a growing irrationalism that threatened to undermine its legacy of rational inquiry. Technological advancement in the sciences, Husserl argued, had led science to forget its own foundations in the primary "life-world": the world of lived experience. Renewing Husserl's concerns in today's context, Učník first provides an original and compelling reading of his oeuvre through the lens of the formalization of the sciences, then traces the unfolding of this problem through the work of Heidegger, Arendt, and Patočka.
Although many scholars have written on Arendt, none until now has connected her philosophical thought with that of Czech phenomenologist Jan Patočka. Učník provides invaluable access to the work of the latter, who remains understudied in the English language. She shows that together, these four thinkers offer new challenges to the way we approach key issues confronting us today, providing us with ways to reconsider truth, freedom, and human responsibility in the face of the postmodern critique of metanarratives and a growing philosophical interest in new forms of materialism.
Praise For The Crisis of Meaning and the Life-World: Husserl, Heidegger, Arendt, Patocka (Series In Continental Thought #49)…
"Učník contributes to a clarification of the phenomenological call to return 'back to the things themselves.' Putting these four thinkers in conversation around a well-formulated question that also addresses significant questions of today is a great contribution to understanding the development of phenomenological thought in the twentieth century from new angles."—Marcia Sá Cavalcante Schuback, professor of philosophy at Södertörn University and author of Lovtal till intet: Essäer om filosofisk hermeneutik

"This timely book makes a significant and thoughtful contribution both to philosophical discourse and to grappling with our contemporary world situation." —Suzi Adams, Flinders University, author of Castoriadis's Ontology: Being and Creation, and coordinating editor, Social Imaginaries journal
Ohio University Press, 9780821422489, 268pp.
Publication Date: December 15, 2016
About the Author
Ľubica Učník is an associate professor and academic chair in philosophy at Murdoch University, Australia. She is coeditor (with Ivan Chvatík and Anita Williams) of Asubjective Phenomenology: Jan Patočka's Project in the Broader Context of His Work; The Phenomenological Critique of Mathematisation and the Question of Responsibility: Formalisation and the Life-World; and (with Ivan Chvatík) of the English translation of Patočka's The Natural World as a Philosophical Problem (translated by Erika Abrams).