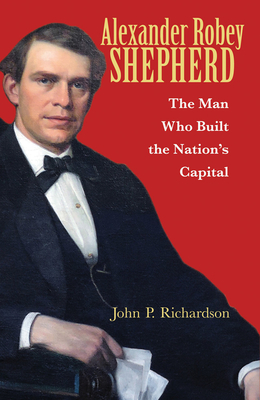 Alexander Robey Shepherd (Paperback)
The Man Who Built the Nation's Capital
Ohio University Press, 9780821422502, 288pp.
Publication Date: October 15, 2016
Other Editions of This Title:
Hardcover (10/15/2016)
* Individual store prices may vary.
Description
With Alexander Robey Shepherd, John P. Richardson gives us the first full-length biography of his subject, who as Washington, D.C.'s, public works czar (1871–74) built the infrastructure of the nation's capital in a few frenetic years after the Civil War. The story of Shepherd is also the story of his hometown after that cataclysm, which left the city with churned-up streets, stripped of its trees, and exhausted.

An intrepid businessman, Shepherd became president of Washington's lower house of delegates at twenty-seven. Garrulous and politically astute, he used every lever to persuade Congress to realize Peter L'Enfant's vision for the capital. His tenure produced paved and graded streets, sewer systems, trees, and gaslights, and transformed the fetid Washington Canal into one of the city's most stately avenues. After bankrupting the city, a chastened Shepherd left in 1880 to develop silver mines in western Mexico, where he lived out his remaining twenty-two years.

In Washington, Shepherd worked at the confluence of race, party, region, and urban development, in a microcosm of the United States. Determined to succeed at all costs, he helped force Congress to accept its responsibility for maintenance of its stepchild, the nation's capital city.
About the Author
John P. Richardson is a retired intelligence officer, Middle East specialist, and author of a previous study on the West Bank and Gaza Strip. He is an officer of two Washington area historical organizations and lives with his wife in Arlington, Virginia.
Praise For Alexander Robey Shepherd: The Man Who Built the Nation's Capital…
"John Richardson's lucid biography of the central figure in Washington's municipal history before the 1970s will benefit Washingtonians but also historians of all American cities. Through painstaking research, Richardson reveals common themes in the two seemingly disconnected segments of Shepherd's storied career: as the visionary but imperious public works official who made Washington a modern city in the 1870s, and then as the imperialistic operator of American-owned mines in Díaz-era Mexico."—Alan Lessoff, author of The Nation and Its City: Politics, "Corruption," and Progress in Washington, D.C, 1861–1902
"This fascinating study of Shepherd—a kind of proto-Robert Moses—belongs on any bookshelf devoted to the evolution of the American cityscape. The strength of Richardson's research and writing is in the care and balance he brings to the tale. Washington, D.C., comes alive here, and so does Shepherd: sometimes hero and sometimes villain, he is always compelling and utterly human."—Scott W. Berg, author of Grand Avenues: The Story of Pierre Charles L'Enfant, the French Visionary Who Designed Washington, D.C.
"With skill, nuance, and the mining of primary sources, John Richardson brings visionary and/or corrupt political hack Alexander 'Boss' Shepherd, the remarkable 'New Washington,' and the heady early years of the Gilded Age to life."—Kathryn Allamong Jacob, author of King of the Lobby: The Life and Times of Sam Ward, Man-about-Washington in the Gilded Age
"The controversy surrounding Shepherd's legacy can be reduced to a single question: Do the ends justify the means? Richardson concludes that the physical development that Washington experienced during Shepherd's leadership of the Board of Public Works did indeed justify the exorbitant financial costs, the questionable business practices, and the loss of self-government.…It is a tribute to Richardson's careful research and balanced narrative that many readers may disagree with his assessments of this fascinating but flawed man."—Washington History
"Shepherd's story, told [here] with skill and confidence, is at once the story of a great American character, with all his great achievements—bold, visionary, pragmatic, entrepreneurial; and notable flaws.… It's also the stor
or
Not Currently Available for Direct Purchase