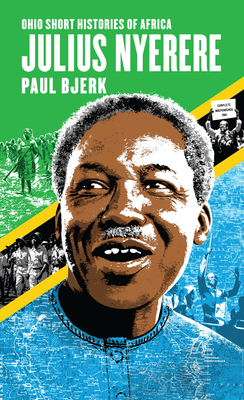 Julius Nyerere (Ohio Short Histories of Africa)
Paperback

* Individual store prices may vary.
Description
With vision, hard-nosed judgment, and biting humor, Julius Nyerere confronted the challenges of nation building in modern Africa. Constructing Tanzania out of a controversial Cold War union between Tanganyika and Zanzibar, Nyerere emerged as one of independent Africa's most influential leaders. He pursued his own brand of African socialism, called Ujamaa, with unquestioned integrity, and saw it profoundly influence movements to end white minority rule in Southern Africa. Yet his efforts to build a peaceful nation created a police state, economic crisis, and a war with Idi Amin's Uganda. Eventually—unlike most of his contemporaries—Nyerere retired voluntarily from power, paving the way for peaceful electoral transitions in Tanzania that continue today.
Based on multinational archival research, extensive reading, and interviews with Nyerere's family and colleagues, as well as some who suffered under his rule, Paul Bjerk provides an incisive and accessible biography of this African leader of global importance. Recognizing Nyerere's commitment to participatory government and social equality while also confronting his authoritarian turns and policy failures, Bjerk offers a portrait of principled leadership under the difficult circumstances of postcolonial Africa.
Praise For Julius Nyerere (Ohio Short Histories of Africa)…
"Bjerk succeeds in debating the legacy of Nyerere through six short chapters. The book recognises the highs and lows of Nyerere's illustrious political careers and balances this in a manner befitting a great African statesman … This book offers that opportunity to understand Tanzania's political culture and history through the life and times of Mwalimu Nyerere."—Africa at LSE
"A highly welcome and urgently needed addition to the historical literature on African politicians.…Due to its readability, brevity, and appealing portrayal of the complexities of politicking, the book is well suited for classroom use, but it is also of interest to those already familiar with Tanzanian history.…The book can be wholeheartedly recommended to students of political biographies, postcolonial politics, decolonization, and African contemporary history, and anybody interested in socialist thought and experiments across the globe."—H-Net
"Bjerk's embrace of contradiction and complexity allows him to address [an] amorphous question of legacy, and he draws deeply on the full range of existing scholarship about Tanzania."—Global Africana Review
Ohio University Press, 9780821422601, 168pp.
Publication Date: May 30, 2017
About the Author
Paul Bjerk is an associate professor of African history at Texas Tech University, and was recently a Fulbright Scholar at the University of Iringa in Tanzania. He is the author of Building a Peaceful Nation: Julius Nyerere and the Establishment of Sovereignty in Tanzania, 1960–1964.