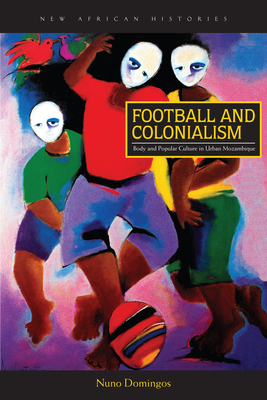 Football and Colonialism
Body and Popular Culture in Urban Mozambique (New African Histories)
Paperback

* Individual store prices may vary.
Other Editions of This Title:
Hardcover (7/25/2017)
Description
In articles for the newspaper O Brado Africano in the mid-1950s, poet and journalist José Craveirinha described the ways in which the Mozambican football players in the suburbs of Lourenço Marques (now Maputo) adapted the European sport to their own expressive ends. Through gesture, footwork, and patois, they used what Craveirinha termed "malice"—or cunning—to negotiate their places in the colonial state. "These manifestations demand a vast study," Craveirinha wrote, "which would lead to a greater knowledge of the black man, of his problems, of his clashes with European civilization, in short, to a thorough treatise of useful and instructive ethnography."
In Football and Colonialism, Nuno Domingos accomplishes that study. Ambitious and meticulously researched, the work draws upon an array of primary sources, including newspapers, national archives, poetry and songs, and interviews with former footballers. Domingos shows how local performances and popular culture practices became sites of an embodied history of Mozambique. The work will break new ground for scholars of African history and politics, urban studies, popular culture, and gendered forms of domination and resistance.
Praise For Football and Colonialism: Body and Popular Culture in Urban Mozambique (New African Histories)…
"Domingos's study goes far beyond similar ones of football in African and Latin American settings. He aims to put the bodies of men in Lourenço Marques at the center of a cultural and social history of the colonial city, and manages this with powerful insight and a fair degree of grace. This is a magnificent history of football in a colonial city in southern Africa."—Roger Kittleson, author of The Country of Football: Soccer and the Making of Modern Brazil

"More than just a sports history, Football and Colonialism employs soccer as a prism through which to trace the shifting interactions between Africans and Europeans in Lourenço Marques. As Domingos effortlessly oscillates between colonial policy and indigenous response, he brings the city alive, and at the heart of the text are the African players themselves."—Todd Cleveland, author of Diamonds in the Rough: Corporate Paternalism and African Professionalism on the Mines of Colonial Angola, 1917–1975

"[Following the Ball and Football and Colonialism] convincingly demonstrate that the histories of Mozambican football and of African migrants in Portugal have value and deserve to be told in their own right. … Individually and together, these impressive books greatly deepen our knowledge and understanding of football and society in Africa and Europe. I highly recommend them to specialists and general readers interested in sport, African Studies, and globalization."—Peter Alegi, Idrottsforum

Nuno Domingos' Football and Colonialism offers amazing insight into football in colonial Mozambique and represents a very important addition to the academic literature on football. As a well-researched work that integrates sociological and anthropological theory seamlessly into the historical narrative, it will also be of immense value to students of African history, colonial history, urban studies, as well as to those with an interest in popular culture and sports more generally.—African Studies Quarterly
Ohio University Press, 9780821422625, 342pp.
Publication Date: July 25, 2017
About the Author
Nuno Domingos is a research fellow at the Institute of Social Sciences of the University of Lisbon and a research associate at the School of Oriental and African Studies Food Studies Centre. A social anthropologist by training, his research concerns the history of Portuguese colonialism in Mozambique and of the Portuguese Estado Novo (1933–1974) through the study of cultural practices and consumptions.