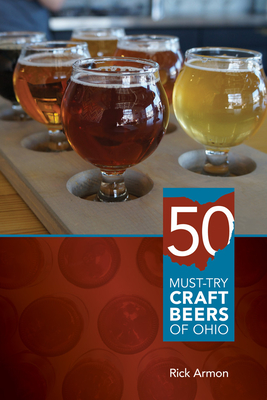 Fifty Must-Try Craft Beers of Ohio
Paperback

* Individual store prices may vary.
Description
Every craft beer has a story, and part of the fun is learning where the liquid gold in your glass comes from. In Fifty Must-Try Craft Beers of Ohio, veteran beer writer Rick Armon picks the can't-miss brews in a roundup that will handily guide everyone from the newest beer aficionado to those with the most seasoned palates. Some are crowd pleasers, some are award winners, some are just plain unusual—the knockout beers included here are a tiny sample of what Ohio has to offer.
In the midst of the ongoing nationwide renaissance in local beer culture, Ohio has become a major center for the creation of quality craft brews, and Armon goes behind the scenes to figure out what accounts for the state's beer alchemy. He asked the brewers themselves about the great idea or the happy accident that made each beer what it is. The book includes brewer profiles, quintessentially Ohio food pairings (sauerkraut balls and Cincinnati chili!), and more.
Praise For Fifty Must-Try Craft Beers of Ohio…
"In this, the second beer book from the Akron Beacon Journal's beer writer, you'll get capsules that include beer info, availability, suggestions on what else to try, and brief chapters on the breweries. In addition Armon includes various lists—10 Ohio foods paired with craft beer, 10 most influential people in the Ohio craft-beer community, and the like. Armon's love for traversing his home state for beer shows in this book."—Marc Bona, Cleveland.com

"As a journalist, Rick Armon has been the foremost Ohio beer evangelist for close to two decades, and his new book 50 Must-Try Craft Beers of Ohio is a wonderful introductory guide to what our state has to offer beer aficionados."—David Nilsen, PorchDrinking.com

"The craft beer industry is poised for continuing growth, adding to the timeliness of this lively book. It will educate and inspire both longtime enthusiasts and those new to the world of craft brewing."—Neil Reid, "The Beer Professor," University of Toledo
Ohio University Press, 9780821422670, 248pp.
Publication Date: September 16, 2017
About the Author
Rick Armon has been writing about beer as a newspaper reporter and author since 1999. He covers the Ohio brewing industry for the Akron Beacon Journal and is the author of Ohio Breweries.