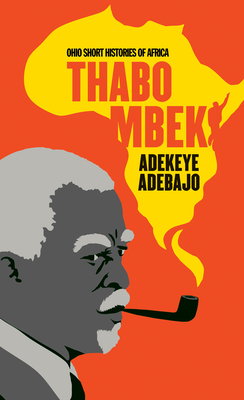 Thabo Mbeki (Ohio Short Histories of Africa)
Paperback

* Individual store prices may vary.
Description
Former South African president Thabo Mbeki is a complex figure. He was a committed young Marxist who, while in power, embraced conservative economic policies and protected white corporate interests; a rational and dispassionate thinker who was particularly sensitive to criticism and dissent; and a champion of African self-reliance who relied excessively on foreign capital.
As a key liberation leader in exile, he was instrumental in the ANC's antiapartheid struggle. Later, he helped build one of the world's most respected constitutional democracies. As president, though, he was unable to overcome inherited socioeconomic challenges, and his disastrous AIDS policies will remain a major blotch on his legacy.
Mbeki is the most important African political figure of his generation. He will be remembered as a foreign policy president for his peacemaking efforts and his role in building continental institutions, not least of which was the African Union. In this concise biography, ideally suited for the classroom, Adekeye Adebajo seeks to illuminate Mbeki's contradictions and situate him in a pan-African pantheon.
Praise For Thabo Mbeki (Ohio Short Histories of Africa)…
"The author's readable style summarizes the contours of Mbeki's life from his childhood with activist parents to student defiance of apartheid, then exile to Britain and across Africa, where Oliver Tambo groomed him for leadership…. The book succeeds as a balanced, easy-to-read, yet insightful biography. Like other titles in the "Ohio Short Histories of Africa" series, students will benefit from the book's succinctness … Summing Up: Recommended."—CHOICE
"The book meticulously captures the thoughts, personality and idiosyncrasies of a man whose legacy in South Africa and abroad is mixed.…Departing from other biographies of Mbeki, the book offers a careful analytical balance between Mbeki's domestic policy and foreign policy.…At a time [when] the African continent is toying with the idea of new Pan-Africanism – imbued with Mbeki's idea of African renaissance, the book can offer an important historical context to the same."—Nicodemus Minde, Africa@LSE
Ohio University Press, 9780821422748, 190pp.
Publication Date: May 15, 2017
About the Author
Adekeye Adebajo is the director of the Institute for Pan-African Thought and Conversation at the University of Johannesburg and was a Rhodes Scholar at Oxford University, where he obtained his doctorate. He is the author of The Curse of Berlin: Africa after the Cold War and editor of Africa's Peacemakers: Nobel Peace Laureates of African Descent. He is a columnist for Business Day (South Africa) and the Guardian (Nigeria).