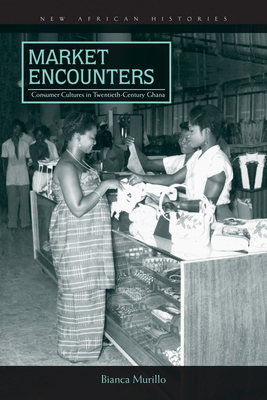 Market Encounters (Paperback)
Consumer Cultures in Twentieth-Century Ghana (New African Histories)
Ohio University Press, 9780821422892, 248pp.
Publication Date: October 16, 2017
Other Editions of This Title:
Hardcover (10/16/2017)
* Individual store prices may vary.
Description
In Market Encounters, Bianca Murillo explores the shifting social terrains that made the buying and selling of goods in modern Ghana possible. Fusing economic and business history with social and cultural history, she traces the evolution of consumerism in the colonial Gold Coast and independent Ghana from the late nineteenth century through to the political turmoil of the 1970s.
Murillo brings sales clerks, market women, and everyday consumers in Ghana to the center of a story that is all too often told in sweeping metanarratives about what happens when African businesses are incorporated into global markets. By emphasizing the centrality of human relationships to Ghana's economic past, Murillo introduces a radical rethinking of consumption studies from an Africa-centered perspective. The result is a keen look at colonial capitalism in all of its intricacies, legacies, and contradictions, including its entanglement with gender and race.
About the Author
Bianca Murillo is an associate professor of History at California State University, Dominguez Hills. Her work has appeared in Africa, Gender & History, and Enterprise and Society.
Praise For Market Encounters: Consumer Cultures in Twentieth-Century Ghana (New African Histories)…
"With original research and creative methods, Murillo makes a substantial contribution to the analysis of military periods of rule and their concrete effects and concerns with regards to local and import/export trade. Moreover, she writes vividly and precisely."—Gracia Clark, author of African Market Women: Seven Life Stories from Ghana
"This is one of the few, or perhaps the only, comprehensive works on the vital social, economic and cultural history of retail businesses and the ways that they shaped life in a twentieth-century African society. It adds a great deal of texture and richness to the historiography of modern Africa, and challenges and complicates our overall understanding of the structure of colonial and postcolonial society."—Timothy Burke, author of Lifebuoy Men, Lux Women: Commodification, Consumption and Cleanliness in Modern Zimbabwe
"(Market Encounters) brings to bear an impressive range of disparate sources—from Switzerland, the United Kingdom, the United States, and Ghana—to document these social relationships that shaped the history of consumption or consumer politics in Ghana from the colonial period to the 1980s."—American Historical Review