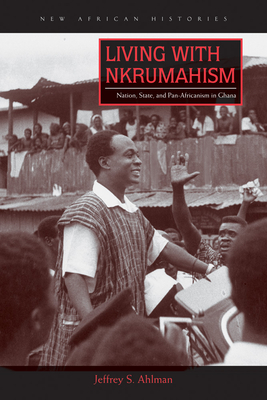 Living with Nkrumahism
Nation, State, and Pan-Africanism in Ghana (New African Histories)
Paperback

* Individual store prices may vary.
Other Editions of This Title:
Hardcover (10/16/2017)
Description
In the 1950s, Ghana, under the leadership of Kwame Nkrumah and the Convention People's Party, drew the world's attention as anticolonial activists, intellectuals, and politicians looked to it as a model for Africa's postcolonial future. Nkrumah was a visionary, a statesman, and one of the key makers of contemporary Africa. In Living with Nkrumahism, Jeffrey S. Ahlman reexamines the infrastructure that organized and consolidated Nkrumah's philosophy into a political program.
Ahlman draws on newly available source material to portray an organizational and cultural history of Nkrumahism. Taking us inside bureaucracies, offices, salary structures, and working routines, he painstakingly reconstructs the political and social milieu of the time and portrays a range of Ghanaians' relationships to their country's unique position in the decolonization process. Through fine attunement to the nuances of statecraft, he demonstrates how political and philosophical ideas shape lived experience.
Living with Nkrumahism stands at the crossroads of the rapidly growing fields of African decolonization, postcolonial history, and Cold War studies. It provides a much-needed scholarly model through which to reflect on the changing nature of citizenship and political and social participation in Africa and the broader postcolonial world.
Praise For Living with Nkrumahism: Nation, State, and Pan-Africanism in Ghana (New African Histories)…
"Sterling…A much-needed work on this important period in both Ghana's history and the history of sub-Saharan Africa…Though some of the earlier works on Nkrumah and the demise of his rule are overly critical, and argue that Nkrumah's ideology and the socialism of the CPP were at odds with what the people wanted, Ahlman's work is critical yet measured.…[He] bridges the gap between the overly harsh studies of the late 1960s and 1970s and the more recent sentiments of Ghanaians who believe that Nkrumahism managed to bring some benefits to Ghana."—H-Net
"The time is ripe for histories like this one that re-examine the classic moment of early postcolonial nationalism. In clear, accessible style, Ahlman sets up this account as a story that needs to be told without the baggage of a later postcolonial pessimism overdetermining the narrative. Further, he meets this challenge."—Andrew Ivaska, author of Cultured States: Youth, Gender, and Modern Style in 1960s Dar es Salaam
"This well-crafted study of Ghanaian life under the rule of Kwame Nkrumah and the Convention People's Party (CPP) makes an important contribution to our understanding of a critical period in Ghana's and Africa's history.…Ahlman clearly succeeds in his goal of illuminating the 'aspirations and tensions involved in living with Nkrumahism' and reconstructing a critical period in Ghana's history 'without the weight of later decades.'"—Journal of Modern African Studies
"Living with Nkrumahism is an ambitious and successful book. It should be read by anyone interested in Nkrumah's Ghana and African national developments in the 1950s and 1960s."—Journal of Social History
Ohio University Press, 9780821422939, 322pp.
Publication Date: October 16, 2017
About the Author
Jeffrey S. Ahlman is an associate professor of history and director of African studies at Smith College. He is the author of Living with Nkrumahism: Nation, State, and Pan-Africanism in Ghana (Ohio University Press, 2017) and coeditor of the journal Ghana Studies.