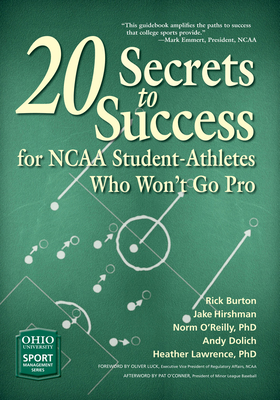 20 Secrets to Success for NCAA Student-Athletes Who Won't Go Pro (Ohio University Sport Management Series)
Paperback

* Individual store prices may vary.
Other Editions of This Title:
Hardcover (1/10/2018)
Paperback (7/23/2021)
Description
The vast majority of student-athletes dreaming of athletic stardom won't make it to the pros. Yet, the discipline and skills they've developed while balancing a sport and academics make them ideally suited for satisfying careers elsewhere.
In 20 Secrets to Success for NCAA Student-Athletes Who Won't Go Pro, the authors draw on personal experience, interviews, expert opinion, and industry data to provide a game plan for student-athletes through key transitions at each stage of their careers, from high school through college and beyond.
Modeled on Stephen Covey's The 7 Habits of Highly Effective People, this book provides a much-needed strategy for achieving career success. Readable and concise, it will be a valuable tool for students, parents, and sports administrators.
Praise For 20 Secrets to Success for NCAA Student-Athletes Who Won't Go Pro (Ohio University Sport Management Series)…
"This guidebook amplifies the paths to success that college sports provide. The broad perspectives shared throughout the book demonstrate a perfect understanding of how important it is for student-athletes to give their talents to their sport and their focus to academics."—Mark Emmert, President, NCAA

"All student athletes and their mentors should read this book. It brings into focus the challenges and the opportunities inherent in being a collegiate athlete. Most importantly, it outlines a framework for how to successfully navigate the landscape and develop an outstanding life plan."—Deborah A. Yow, Director of Athletics, North Carolina State University

"This book reinforces what those of us who work in the collegiate athletics industry understand and should be a required reading for everyone pursuing NCAA scholarships and all NCAA student-athletes."—Stan Wilcox, Vice President & Director of Athletics, Florida State University

"The authors provide terrific insight and practical advice on how to develop a road map for that 'next' phase in your life and better prepare you for long-term success. I recommend this for anyone invested in the lives of student-athletes, but especially for aspiring or current student-athletes … it's never too late to start thinking about what's next."—Amy Huchthausen, Commissioner, America East Conference

"Although this book is for college athletes who won't go pro, even pro athletes will find, at the end of their professional sports career (which often happens very quickly), that they can benefit from the practical tools and advice in this book. It is filled with insights and is an easy read. I highly recommend it."—Jim Thompson, Founder and CEO, Positive Coaching Alliance
Ohio University Press, 9780821422953, 232pp.
Publication Date: January 10, 2018
About the Author
Rick Burton is the David B. Falk Distinguished Professor of Sport Management at Syracuse University's Falk College of Sport and Human Dynamics and Syracuse University's faculty athletics representative to the NCAA and Atlantic Coast Conference. Previously, he was chief marketing officer for the US Olympic Committee for the 2008 Beijing Summer Olympics and commissioner of the Sydney-based Australian National Basketball League. He and coauthor Norm O'Reilly write a monthly column for Sports Business Journal and have coauthored three other books together. He also operates the Burton Marketing Group, which has worked with the NFL, NHL, NBL, and other leagues.
Jake Hirshman currently works at the PGA Tour in tournament business and sponsor relations for the Korn Ferry Tour. Previously he worked for Learfield-IMG College, MLB, the Rose Bowl, the Ontario Reign, and the Inland Empire 66ers. In addition to hosting the Life in the Front Office podcast, he is coauthor of the forthcoming book LOL, Loss of Logo. Hirshman is a cofounder and partner of Competitive Advantage Consulting and Sports Business Case Reviews. Additionally, he is an adjunct professor at the University of Florida and Seattle University.
Norm O'Reilly is a leading scholar in the business of sports and the author or coauthor of sixteen books and more than 150 articles. Currently the Dean of the Graduate School of Business at the University of Maine, he held the Richard P. and Joan S. Fox Professor of Business and chair of the Department of Sports Administration at Ohio University's College of Business from 2014 to 2018. O'Reilly received the Career Achievement Award by the American Marketing Association's Sport Marketing Special Interest Group and was assistant chef de mission for the Canadian team at the 2016 Paralympic Games. He is a lifetime research fellow of the North American Society for Sport Management.
Andy Dolich has spent over fifty years in the professional sports industry and held executive positions with the NFL, NBA, NHL, and MLB. Together with Jake Hirshman, Dolich cohosts the Life in the Front Office podcast and coauthored LOL, Loss of Logo: What's Your Next Move? He is an Ultimate Sports Guide columnist, the CEO of Fan Controlled Football (FCF), the president of Dolich Consulting, and a Stanford Continuing Studies instructor.
Heather Lawrence is the author of Event Management Blueprint: Creating and Managing Successful Sports Events and has twenty years of sport business experience. After more than fifteen years in academia at Ohio University, in 2021 she became the director of sport operations at CrossFit, LLC. Prior to her academic career, Lawrence was an intercollegiate athletics administrator at Southeastern Louisiana University and the University of Florida.