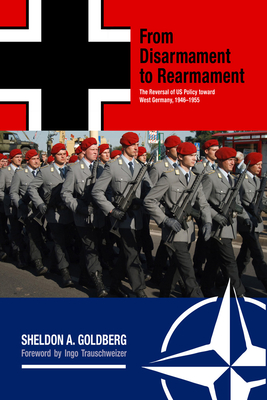 From Disarmament to Rearmament (Hardcover)
The Reversal of US Policy toward West Germany, 1946–1955 (War and Society in North America)
Ohio University Press, 9780821423004, 352pp.
Publication Date: October 2, 2017
* Individual store prices may vary.
Description
At the end of World War II, the Allies were unanimous in their determination to disarm the former aggressor Germany. As the Cold War intensified, however, the decision whether to reverse that policy and to rearm West Germany as a bulwark against the Soviet threat led to disagreements both within the US government and among members of the nascent NATO alliance. The US military took the practical view that a substantial number of German troops would be required to deter any potential Soviet assault. The State Department, on the other hand, initially advocated an alternative strategy of strengthening European institutions but eventually came around to the military's position that an armed West Germany was preferable to a weak state on the dividing line between the Western democracies and the Soviet satellite states.
Sheldon A. Goldberg traces the military, diplomatic, and political threads of postwar policy toward West Germany and provides insights into the inner workings of alliance building and the roles of bureaucrats and military officers as well as those of diplomats and statesmen. He draws on previously unexamined primary sources to construct a cogent account of the political and diplomatic negotiations that led to West Germany's accession to NATO and the shaping of European order for the next forty years.
About the Author
Sheldon A. Goldberg, PhD, is a retired career U.S. Air Force officer, half of which was spent in West Europe. His many assignments included a combat tour in Southeast Asia in the F-4 Phantom, Air Force advisor to the Commandant, German General Staff College, and air policy staff officer in Headquarters, Allied Forces Central Region.
Praise For From Disarmament to Rearmament: The Reversal of US Policy toward West Germany, 1946–1955 (War and Society in North America)…
"From Disarmament to Rearmament is a significant contribution to an understanding of the complex nuances of the early Cold War. It illuminates the complex relationship between military and political factors by demonstrating the shifting terrain of U.S. policy toward Germany during that period…. The work should prove useful for students, scholars, and general readers interested in the shifting contours of U.S. policy during the early Cold War."—Jewish Veteran
or
Not Currently Available for Direct Purchase