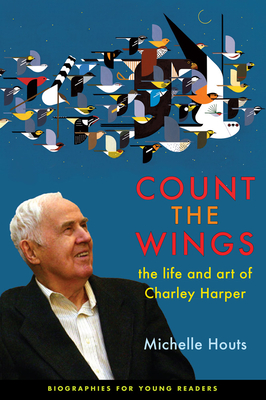 Count the Wings
The Life and Art of Charley Harper (Biographies for Young Readers)
Paperback

* Individual store prices may vary.
Other Editions of This Title:
Hardcover (4/30/2018)
Description
When you look at a bird, do you see feathers and a beak? Or do you see circles and triangles? Artist Charley Harper spent his life reducing subjects to their simplest forms, their basic lines and shapes. This resulted in what he called minimal realism and the style that would become easily recognized as Charley Harper's. Art fans and nature lovers around the world fell in love with Harper's paintings, which often featured bright colors and intriguing nature subjects.
Harper's love of painting and drawing led him from the hills of West Virginia to the bombed-out villages of Europe, to the streets of New York City, and to the halls of the Art Academy of Cincinnati. How did the farm boy who didn't know a single artist become one of America's most recognized midcentury modern painters? The answer is simple. He did it by counting the wings.
Count the Wings is the first book for middle-grade readers about Harper's life and work. Author Michelle Houts worked closely with the Harper estate to include full-color illustrations, plentiful supplemental materials, and discussion questions that will intrigue and engage young readers. Count the Wings is part of our acclaimed Biographies for Young Readers series, which brings smart, expertly researched books about often overlooked but exceptional individuals to school-age readers.
Praise For Count the Wings: The Life and Art of Charley Harper (Biographies for Young Readers)…
"[Houts conveys] a clear sense of [Harper's] amiable character.… [This] warm tribute offers alook behind the paint box."—Kirkus Reviews

"After diving into a large reservoir of unpublished letters and photographs, Michelle Houts has emerged with the true story of a farm boy, WWII soldier, husband, and unique creative voice. Her well-crafted and thoroughly documented book—the first ever biography of my father—shows young readers their dreams can be realized through desire and hard work."—Brett Harper, son of Charley and Edie Harper

"Charley Harper was a magic maker. He shifted our view of the natural world, translating it into contrasts, shapes, and geometric patterns. His genius gives us a whole new understanding of abstraction, bringing the natural and material worlds—and us along with them—into sublime harmony. Michelle Houts's biography is an ideal introduction to his work for young would-be artists and naturalists."—Will Hillenbrand, children's illustrator and author

"As a native Cincinnatian and fellow illustrator, I have been hugely influenced in my own art by Charley Harper's work. Michelle Houts's recounting of Harper's life—his influences, struggles, and his path toward his iconic style—gave me a new appreciation for his classic pieces. Better yet, this engaging book will help other future illustrators discover his work."—Jeffrey Ebbeler, children's book illustrator and author
Ohio University Press, 9780821423080, 144pp.
Publication Date: April 30, 2018
About the Author
Michelle Houts holds degrees in special education and speech-language pathology. She is the author of several fiction and nonfiction books for young readers, including the award-winning The Beef Princess of Practical County,The Practical County Drama Queen, and Winterfrost.