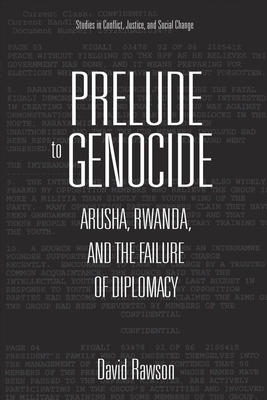 Prelude to Genocide
Arusha, Rwanda, and the Failure of Diplomacy (Stud in Conflict, Justice, & Soc Change)
Paperback

* Individual store prices may vary.
Other Editions of This Title:
Hardcover (10/15/2018)
Description
As the initial US observer, David Rawson participated in the 1993 Rwandan peace talks at Arusha, Tanzania. Later, he served as US ambassador to Rwanda during the last months of the doomed effort to make them hold. Despite the intervention of concerned states in establishing a peace process and the presence of an international mission, UNAMIR, the promise of the Arusha Peace Accords could not be realized. Instead, the downing of Rwandan president Habyarimana's plane in April 1994 rekindled the civil war and opened the door to genocide.
In Prelude to Genocide, Rawson draws on declassified documents and his own experiences to seek out what went wrong. How did the course of political negotiations in Arusha and party wrangling in Kigali, Rwanda, bring to naught a concentrated international effort to establish peace? And what lessons are there for other international humanitarian interventions? The result is a commanding blend of diplomatic history and analysis that is a milestone read on the Rwandan crisis and on what happens when conflict resolution and diplomacy fall short.
Published in partnership with the ADST-DACOR Diplomats and Diplomacy Series.
Praise For Prelude to Genocide: Arusha, Rwanda, and the Failure of Diplomacy (Stud in Conflict, Justice, & Soc Change)…
"In lucid prose, Rawson weaves an informative, readable story of the complicated diplomatic efforts leading to the Arusha Accords of 1993. Drawing on vast documentation as well as his personal knowledge of the context, he provides a valuable perspective on the challenges—and ultimate failure—of the efforts to achieve peace. This thoughtful work adds important insights to our understanding of the road to ruin in Rwanda."—Catharine Newbury, author of The Cohesion of Oppression

"Rawson puts the bottom line up front––Arusha failed because the parties to the talks were seeking power, not peace....This book is the definitive work on the Arusha talks and the most detailed and best-documented account of a diplomatic negotiation that I know of." —Robert E. Gribbin III, former U.S. Ambassador to Rwanda and author of In the Aftermath of Genocide: The U.S. Role in Rwanda

"In this story of frontline diplomacy David Rawson attempts to understand why negotiations failed to keep tragedy at bay in Rwanda.…[He] paints a revealing picture of struggling diplomacy and the dire consequences of failed conflict resolution."—Foreign Service Journal
Ohio University Press, 9780821423332, 342pp.
Publication Date: October 15, 2018
About the Author
David Rawson capped his twenty-eight-year career in the US Foreign Service as ambassador to Rwanda (1993–95) and to Mali (1996–99). After his retirement from the Foreign Service, he was a professor of political economy at Spring Arbor University, a distinguished visiting professor of politics at Hillsdale College, and a scholar in residence at George Fox University in Newberg, Oregon.
or
Not Currently Available for Direct Purchase