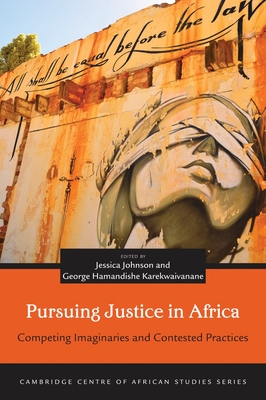 Pursuing Justice in Africa (Hardcover)
Competing Imaginaries and Contested Practices (Cambridge Centre of African Studies)
Ohio University Press, 9780821423356, 342pp.
Publication Date: October 31, 2018
* Individual store prices may vary.
Description
Pursuing Justice in Africa focuses on the many actors pursuing many visions of justice across the African continent—their aspirations, divergent practices, and articulations of international and vernacular idioms of justice. The essays selected by editors Jessica Johnson and George Hamandishe Karekwaivanane engage with topics at the cutting edge of contemporary scholarship across a wide range of disciplines. These include activism, land tenure, international legal institutions, and postconflict reconciliation.

Building on recent work in sociolegal studies that foregrounds justice over and above concepts such as human rights and legal pluralism, the contributors grapple with alternative approaches to the concept of justice and its relationships with law, morality, and rights. While the chapters are grounded in local experiences, they also attend to the ways in which national and international actors and processes influence, for better or worse, local experiences and understandings of justice. The result is a timely and original addition to scholarship on a topic of major scholarly and pragmatic interest.

Contributors:
Felicitas Becker, Jonathon L. Earle, Patrick Hoenig, Stacey Hynd, Fred Nyongesa Ikanda, Ngeyi Ruth Kanyongolo, Anna Macdonald, Bernadette Malunga, Alan Msosa, Benson A. Mulemi, Holly Porter, Duncan Scott, Olaf Zenker.
About the Author
Jessica Johnson is a lecturer in the Department of African Studies and Anthropology at the University of Birmingham, UK. Her work focuses on gender and justice in a matrilineal area of Malawi.
George Hamandishe Karekwaivanane is a lecturer in the Centre of African Studies at the University of Edinburgh, UK. His work focuses on the interaction of law and politics in Zimbabwean history, as well as the social and political impacts of digital media.
Praise For Pursuing Justice in Africa: Competing Imaginaries and Contested Practices (Cambridge Centre of African Studies)…
"The diverse essays, many by African scholars, make this an essential collection on a topic just beginning to animate African studies. Outstanding in their well-balanced combination of ethnography and theory, they thoroughly contextualize their topic. The contrast between the local and the international alone that this well-thought-out book illuminates is valuable."—Pnina Werbner, author of The Making of an African Working Class
"This important volume asks us to step back and reconsider current processes for seeking justice—for righting wrongs, holding criminals accountable for their crimes, and fostering harmony—and to ask what should always have been the first question: what are the meanings individuals and communities attach to 'justice'? Or, indeed, is there anything like 'justice' in Africa that can equate to the many, differing definitions of justice in the West?"—Brett Shadle, author of The Souls of White Folk: White Settlers in Kenya, 1900—1920s
or
Not Currently Available for Direct Purchase