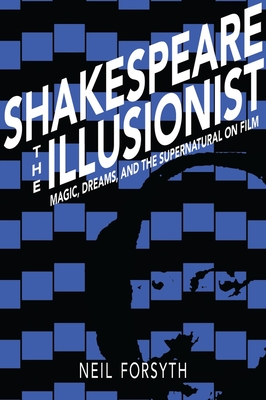 Shakespeare the Illusionist (Hardcover)
Magic, Dreams, and the Supernatural on Film
Ohio University Press, 9780821423363, 232pp.
Publication Date: February 11, 2019
* Individual store prices may vary.
Description
In Shakespeare the Illusionist, Neil Forsyth reviews the history of Shakespeare's plays on film, using the basic distinction in film tradition between what is owed to Méliès and what to the Lumière brothers. He then tightens his focus on those plays that include some explicit magical or supernatural elements—Puck and the fairies, ghosts and witches, or Prospero's island, for example—and sets out methodically, but with an easy touch, to review all the films that have adapted those comedies and dramas, into the present day.

Forsyth's aim is not to offer yet another answer as to whether Shakespeare would have written for the screen if he were alive today, but rather to assess what various filmmakers and TV directors have in fact made of the spells, haunts, and apparitions in his plays. From analyzing early camera tricks to assessing contemporary handling of the supernatural, Forsyth reads Shakespeare films for how they use the techniques of moviemaking to address questions of illusion and dramatic influence. In doing so, he presents a bold step forward in Shakespeare and film studies, and his fresh take is presented in lively, accessible language that makes the book ideal for classroom use.
About the Author
Neil Forsyth teaches at the University of Lausanne, Switzerland. He is the author of John Milton: A Biography, The Satanic Epic, and The Old Enemy: Satan and the Combat Myth, as well as numerous journal articles and book chapters.
Praise For Shakespeare the Illusionist: Magic, Dreams, and the Supernatural on Film…
"This is a wonderful book: learned, bright, and winningly written. It tackles an interesting issue (the nature of illusion in an art form which is all illusion) in Shakespeare on film and does so by not only providing rich and satisfying readings of some major Shakespeare films (Olivier's Hamlet and Welles's Macbeth, for example) that I had thought had been well mined by previous critics, but does so by placing those films in the context of the larger film history."—Samuel Crowl, author of Shakespeare on Film: A Norton Guide and Shakespeare at the Cineplex