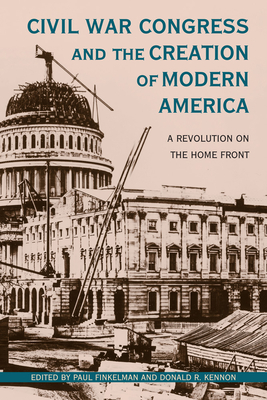 Civil War Congress and the Creation of Modern America
A Revolution on the Home Front (Perspective Hist of Congress 1801-1877)
Hardcover

* Individual store prices may vary.
Description
Most literature on the Civil War focuses on soldiers, battles, and politics. But for every soldier in the United States Army, there were nine civilians at home. The war affected those left on the home front in many ways. Westward expansion and land ownership increased. The draft disrupted families while a shortage of male workers created opportunities for women that were previously unknown.
The war also enlarged the national government in ways unimagined before 1861. The Homestead Act, the Land Grant College Act, civil rights legislation, the use of paper currency, and creation of the Internal Revenue Service to collect taxes to pay for the war all illustrate how the war fundamentally, and permanently, changed the nation.
The essays in this book, drawn from a wide range of historical expertise and approaching the topic from a variety of angles, explore the changes in life at home that led to a revolution in American society and set the stage for the making of modern America.
Contributors: Jean H. Baker, Jenny Bourne, Paul Finkelman, Guy Gugliotta, Daniel W. Stowell, Peter Wallenstein, Jennifer L. Weber.
Praise For Civil War Congress and the Creation of Modern America: A Revolution on the Home Front (Perspective Hist of Congress 1801-1877)…
"Illustrations and footnotes abound in this slender yet excellent volume. This work is part of the Ohio University Press's 'Perspectives on the History of Congress, 1801–1877' series, which is currently a seven-volume series that examines the U.S. Congress during the antebellum and Civil War eras. It rightly reminds us how the Civil War remains to this day the foremost event in U.S. history. Its essays specifically illustrate how the war brought forth a revolution in the size and scope of America's national government that, along with a consequential change in culture and society, still resonates into the 21st century."—Civil War News

"A refreshing, nuanced take on a topic that has rarely received sustained attention. The book is well suited for public historians, as well as graduate students who are studying the specific topic of Congress and the Civil War and the impact of congressional legislation."—Elizabeth M. Reese, H-Net Reviews
Ohio University Press, 9780821423387, 232pp.
Publication Date: November 21, 2018
About the Author
Paul Finkelman is an expert on constitutional history, the law of slavery, and the American Civil War. He coedits the Ohio University Press series New Approaches to Midwestern Studies and is the president of Gratz College.
Donald R. Kennon is the former chief historian and vice president of the United States Capitol Historical Society. He is editor of the Ohio University Press series Perspectives on the History of Congress, 1789–1801.
or
Not Currently Available for Direct Purchase