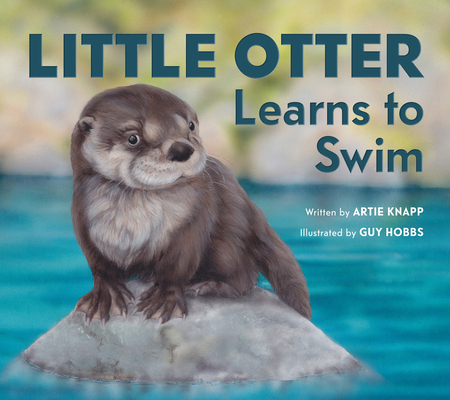 Little Otter Learns To Swim
Hardcover

* Individual store prices may vary.
Description
In this endearing and beautifully illustrated picture book, a baby river otter learns to swim, dive, and play in her natural habitat. Encouraged by her mother, the little otter soon sets out to explore on her own, quickly learning to escape shoreline predators and to find her way back to the security of home.
From children's author Artie Knapp and wildlife artist Guy Hobbs, Little Otter Learns to Swim is an entertaining and colorful tale for ages four and up. The story is followed by two pages of fun facts about river otters as well as information and resources from the River Otter Ecology Project.
Praise For Little Otter Learns To Swim…
"Artie Knapp's heartwarming tale in rhyme celebrates the busyness of a mammal's life in a river. Jump in and enjoy the fun!"—J. Patrick Lewis, Former U.S. Children's Poet Laureate

"Otters have always seemed to me the most magical of creatures—graceful, playful, but elusive. Little Otter Learns to Swim confirms my opinion with superb illustrations and engaging text. While otters are the main focus of the story, each illustration shows other animals that are part of otters' natural habitat. Facts about river otters and efforts to help protect them follows this beautifully illustrated story."—Mary Azarian, Caldecott medalist for Snowflake Bentley

"Sure to become a favorite for readers of all ages.…Even better, at the end, there is a list of interesting facts about river otters to help you answer the many questions your youngster will undoubtedly ask. Little Otter Learns to Swim is the new must-have for your student's bookshelf!"—Sheila Cooper, board member, New Jersey Literacy Association

"Endpapers feature information on North American otters, The River Otter Ecology Project, and saving watersheds. Children will enjoy this simple and gentle story surrounding the world of a little North American river otter."—The Children's Hour

"Little Otter Learns to Swim is certain to be an immediate and enduringly popular addition to family, daycare center, preschool, elementary school, and community library animal/wildlife picture book collections for children."—Midwest Book Review
Ohio University Press, 9780821423400, 32pp.
Publication Date: September 12, 2018
About the Author
Artie Knapp is the author of forty works of children's literature, including books, videos, stories, and poems.
Guy Hobbs is an internationally known artist who specializes in wildlife art.