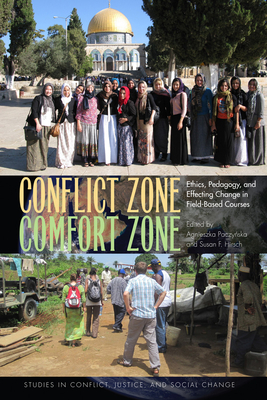 Conflict Zone, Comfort Zone (Paperback)
Ethics, Pedagogy, and Effecting Change in Field-Based Courses (Stud in Conflict, Justice, & Soc Change)
Ohio University Press, 9780821423455, 290pp.
Publication Date: January 7, 2019
Other Editions of This Title:
Hardcover (1/7/2019)
* Individual store prices may vary.
Description
By taking students out of their comfort zone, field-based courses—which are increasingly popular in secondary and postsecondary education—have the potential to be deep, transformative learning experiences. But what happens when the field in question is a site of active or recent conflict? In Conflict Zone, Comfort Zone, editors Agnieszka Paczyńska and Susan F. Hirsch highlight new approaches to field-based learning in conflict zones worldwide. As the contributors demonstrate, instructors must leave the comfort zone of traditional pedagogy to meet the challenges of field-based education.

Drawing on case studies in the United States and abroad, the contributors address the ethical considerations of learning in conflict zones, evaluate the effectiveness of various approaches to teaching these courses, and provide guidelines for effecting change. They also explore how the challenges of field-based classes are magnified in conflict and postconflict settings, and outline the dilemmas faced by those seeking to resolve those challenges. Finally, filling a crucial gap in existing literature, the contributors identify best practices that will assist aspiring instructors in developing successful field-based courses in conflict zones.

Contributors: Daniel R. Brunstetter, Alison Castel, Gina M. Cerasani, Alexander Cromwell, Maryam Z. Deloffre, Sandi DiMola, Leslie Dwyer, Eric Hartman, Pushpa Iyer, Allyson M. Lowe, Patricia A. Maulden, rj nickels, Anthony C. Ogden, Jennifer M. Ramos, Lisa E. Shaw, Daniel Wehrenfennig
About the Author
Agnieszka Paczyńska teaches at the School for Conflict Analysis and Resolution, George Mason University, and is a nonresident fellow at the Stimson Center. She is the author of State, Labor, and the Transition to a Market Economy: Egypt, Poland, Mexico and the Czech Republic and editor of Changing Landscape of Assistance to Conflict-Affected States: Emerging and Traditional Donors and Opportunities for Collaboration.
Susan F. Hirsch is professor and the Vernon M. and Minnie I. Lynch Chair at the School for Conflict Analysis and Resolution at George Mason University. She is the author of Pronouncing and Persevering: Gender and Discourse in an African Islamic Court, In the Moment of Greatest Calamity: Terrorism, Grief, and a Victim's Quest for Justice, and Mountaintop Mining in Appalachia: Understanding Stakeholders and Change in Environmental Conflict.
Praise For Conflict Zone, Comfort Zone: Ethics, Pedagogy, and Effecting Change in Field-Based Courses (Stud in Conflict, Justice, & Soc Change)…
"At a time when local peacebuilding is all the rage, this book asks us to question how we do that kind of work. In the best tradition of Mary Anderson's idea of 'do no harm,' Conflict Zone, Comfort Zone leads readers to ask tough questions about how they do their work, whether that is in far off places or around the corner in their own communities."—Chip Hauss, senior fellow for innovation, Alliance for Peacebuilding
or
Not Currently Available for Direct Purchase