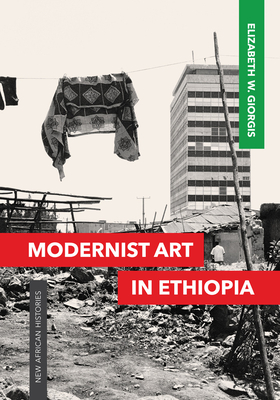 Modernist Art in Ethiopia (New African Histories)
Paperback

* Individual store prices may vary.
Other Editions of This Title:
Hardcover (2/11/2019)
Description
Short-listed for the Fage & Oliver Prize for outstanding scholarly work published on Africa.
Finalist, African Studies Association Book Prize.
Finalist, ASA Bethwell A. Ogot Prize for best book in east African studies.
If modernism initially came to Africa through colonial contact, what does Ethiopia's inimitable historical condition—its independence save for five years under Italian occupation—mean for its own modernist tradition? In Modernist Art in Ethiopia—the first book-length study of the topic—Elizabeth W. Giorgis recognizes that her home country's supposed singularity, particularly as it pertains to its history from 1900 to the present, cannot be conceived outside the broader colonial legacy. She uses the evolution of modernist art in Ethiopia to open up the intellectual, cultural, and political histories of it in a pan-African context.
Giorgis explores the varied precedents of the country's political and intellectual history to understand the ways in which the import and range of visual narratives were mediated across different moments, and to reveal the conditions that account for the extraordinary dynamism of the visual arts in Ethiopia. In locating its arguments at the intersection of visual culture and literary and performance studies, Modernist Art in Ethiopia details how innovations in visual art intersected with shifts in philosophical and ideological narratives of modernity. The result is profoundly innovative work—a bold intellectual, cultural, and political history of Ethiopia, with art as its centerpiece.
Praise For Modernist Art in Ethiopia (New African Histories)…
"Giorgis has assembled the archive of Ethiopian modernism that she brilliantly critiques. With deep personal knowledge, she takes us from magical healing scrolls to miniskirts, from monarchy to socialist tyranny, from Paris to Oklahoma. The details are fascinating and the artists' works themselves extraordinary, but the real revelation is Giorgis' understanding of the politico-cultural cross currents that converged in Ethiopia. Her presentation of them with an unflinchingly critical eye does more to celebrate Ethiopia's singular achievements than any narrowly national story could provide."—Susan Buck-Morss, author of Hegel, Haiti, and Universal History

"Giorgis succeeds in giving a sense of the tumultuous reality in which these artists worked. Modernist Art in Ethiopia is a valuable scholarly introduction to 20th-century Ethiopian art history."—CHOICE

"Modernist Art in Ethiopia is a necessary addition for libraries that hold collections in Non-Western art, postcolonial studies, or modern art…. While parts of the book are complex/theoretical, it also presents a linear historical account of modernist art in Ethiopia which can serve as an introductory text or starting point for further research."—ARLIS/NA (Art Libraries Society of North America)

"A landmark study on Ethiopian modernism and experiences of modernity beyond the West. (Modernist Art in Ethiopia)presents a vital and under-documented history of the experience of modernity and the artistic movements surrounding Modernism, coming from a unique place that will appeal to a wide-ranging readership and is likely to become an important and treasured text."—Africa at LSE blog (London School of Economics)

"With Modernist Art in Ethiopia, Elizabeth Wolde Giorgis writes a powerful indictment of Ethiopian exceptionalism…. Against the established, formalistic way of looking at Ethiopian artworks, Giorgis looks at visual arts and artists in the broader context of intellectual history. Hence, her five chapters contain rich analyses of novels, poetry, newspapers, and advertising, as well as an account of the relationship between artists, writers, and cultural institutions."—Journal of Modern African Studies
Ohio University Press, 9780821423479, 360pp.
Publication Date: February 11, 2019
About the Author
Elizabeth W. Giorgis is the former director of the Institute of Ethiopian Studies and the dean of the College of Performing and Visual Art of Addis Ababa University. She is currently associate professor of critical theory and criticism as well as art history at the College of Performing and Visual Art and the Center of African Studies at Addis Ababa University.
or
Not Currently Available for Direct Purchase