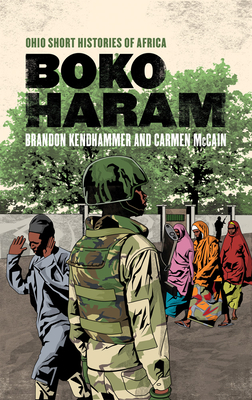 Boko Haram (Ohio Short Histories of Africa) (Paperback)
Ohio University Press, 9780821423516, 220pp.
Publication Date: October 8, 2018
* Individual store prices may vary.
Description
From its small-time origins in the early 2000s to its transformation into one of the world's most-recognized terrorist groups, this remarkable short book tells the story of Boko Haram's bloody, decade-long war in northeastern Nigeria. Going beyond the headlines, including the group's 2014 abduction of 276 girls in Chibok and the international outrage it inspired, Boko Haram provides readers new to the conflict with a clearly written and comprehensive history of how the group came to be, the Nigerian government's failed efforts to end it, and its enormous impact on ordinary citizens.
Drawing on years of research, Boko Haram is a timely addition to the acclaimed Ohio Short Histories of Africa. Brandon Kendhammer and Carmen McCain—two leading specialists on northern Nigeria—separate fact from fiction within one of the world's least-understood conflicts. Most distinctively, it is a social history, one that tells the story of Boko Haram's violence through the journalism, literature, film, and music made by people close to it.
About the Author
Brandon Kendhammer is associate professor of political science and director of international development studies at Ohio University, in Athens, Ohio. He has published widely on religion, ethnicity, and politics in Nigeria, and is the author of Muslims Talking Politics: Framing Islam, Democracy, and Law in Northern Nigeria.
Carmen McCain is assistant professor of English at Westmont College in Santa Barbara, California. Her research focuses on Hausa-language literature, film, and popular culture. In addition to her academic articles on Nigerian film and literature, she has been a columnist with the Nigerian newspaper Daily Trust and has taught at several Nigerian universities.
Praise For Boko Haram (Ohio Short Histories of Africa)…
[This] nimble short history … stands out for a section on creative responses to the group in literature and television. It also explores how the conflict's intractability has given rise to a thick culture of conspiracy theories, propelled by social media…. Kendhammer and McCain trace the conspiratorial mindset to a history of Nigerian government corruption. Nigeria, they show, deals with the same vexations of fake news as the rest of the globalized world, but via its own particular history.—The Times Literary Supplement