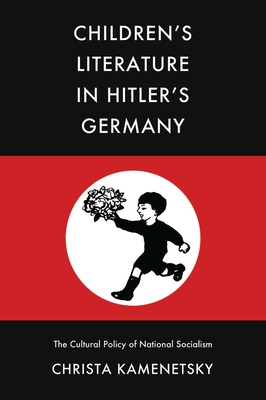 Children's Literature in Hitler's Germany (Paperback)
The Cultural Policy of National Socialism
Ohio University Press, 9780821423646, 376pp.
Publication Date: June 17, 2019
Other Editions of This Title:
Hardcover (5/15/1984)
* Individual store prices may vary.
Description
Between 1933 and 1945, National Socialists enacted a focused effort to propagandize children's literature by distorting existing German values and traditions with the aim of creating a homogenous "folk community." A vast censorship committee in Berlin oversaw the publication, revision, and distribution of books and textbooks for young readers, exercising its control over library and bookstore content as well as over new manuscripts, so as to redirect the cultural consumption of the nation's children. In particular, the Nazis emphasized Nordic myths and legends with a focus on the fighting spirit of the saga heroes, their community loyalty, and a fierce spirit of revenge—elements that were then applied to the concepts of loyalty to and sacrifice for the Führer and the fatherland. They also tolerated select popular series, even though these were meant to be replaced by modern Hitler Youth camping stories.
In this important book, first published in 1984 and now back in print, Christa Kamenetsky demonstrates how Nazis used children's literature to selectively shape a "Nordic Germanic" worldview that was intended to strengthen the German folk community, the Führer, and the fatherland by imposing a racial perspective on mankind. Their efforts corroded the last remnants of the Weimar Republic's liberal education, while promoting an enthusiastic following for Hitler.
About the Author
Christa Kamenetsky was a schoolchild in Germany during World War II. She studied at the universities of Kiel, Bremen, Freiburg, Central Michigan, Munich, and Washington. She is also the author of The Brothers Grimm and Their Critics: Folktales and the Quest for Meaning and was a professor of English at Central Michigan University, where she taught children's literature and comparative literature.
Praise For Children's Literature in Hitler's Germany: The Cultural Policy of National Socialism…
"In a significant study based on years of archival research and embracing a wealth of primary sources, Christa Kamenetsky demonstrates exactly how the Nazis indoctrinated 'the young nation.'…[This is] a richly rewarding and historically informative tapestry.…Highly recommended for the insight it gives into a neglected area of youth culture in the Third Reich."—American Historical Review
"Throughout her study, Kamenetsky provides a vast number of documents, references, and illustrations to present a comprehensive picture of how the Nazis sought to institutionalize children's literature. She also demonstrates the gaps and weaknesses in this process of institutionalization that prevented the Nazis from completely capturing the minds of the young."—Germanic Review
"(Kamenetsky's) study overwhelms the reader with the picture of what surely must have been a censor's utopia, for she reveals the two-fold dream of censors in operation: aggression against everything that does not fit the censor's view and imposition of a predetermined value system by the censor whose aggression has been successful."—Children's Literature
"Children's Literature in Hitler's Germany presents a fascinating picture of political censorship, control of publishing, and manipulation of story, and suggests that literature, when used to teach cultural values, can become a standard for conformity…. As German leaders began to reshape children's literature, traditional fiction was discarded in favor of German and Nordic folklore, which was rewritten to fit the ideals of Nazi leaders. Germans, it was argued, should be aware of their true origins, and should realize that their peasant beginnings held the moral and cultural fiber most important to Germanic civilization."—Children's Literature Association Quarterly