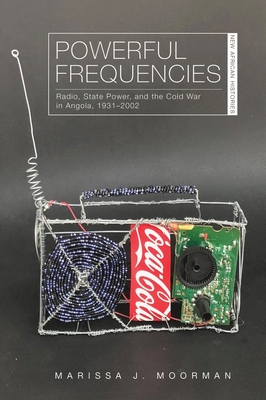 Powerful Frequencies
Radio, State Power, and the Cold War in Angola, 1931–2002 (New African Histories)
Paperback

* Individual store prices may vary.
Other Editions of This Title:
Hardcover (8/20/2019)
Description
Powerful Frequencies details the central role that radio technology and broadcasting played in the formation of colonial Portuguese Southern Africa and the postcolonial nation-state, Angola. In Intonations, Marissa J. Moorman examined the crucial relationship between music and Angolan independence during the 1960s and '70s. Now, Moorman turns to the history of Angolan radio as an instrument for Portuguese settlers, the colonial state, African nationalists, and the postcolonial state. They all used radio to project power, while the latter employed it to challenge empire.
From the 1930s introduction of radio by settlers, to the clandestine broadcasts of guerrilla groups, to radio's use in the Portuguese counterinsurgency strategy during the Cold War era and in developing the independent state's national and regional voice, Powerful Frequencies narrates a history of canny listeners, committed professionals, and dissenting political movements. All of these employed radio's peculiarities—invisibility, ephemerality, and its material effects—to transgress social, political, "physical," and intellectual borders. Powerful Frequencies follows radio's traces in film, literature, and music to illustrate how the technology's sonic power—even when it made some listeners anxious and frightened—created and transformed the late colonial and independent Angolan soundscape.
Praise For Powerful Frequencies: Radio, State Power, and the Cold War in Angola, 1931–2002 (New African Histories)…
"This is an outstanding book. Moorman, already the author of a superb and influential social history of Angolan music, writes the definitive work on Angolan radio during the colonial and post-independence periods. It not only unearths new knowledge about Angolan history, but places Angolan developments in the wider canvas of the Cold war. That Moorman has achieved this through a book that is elegantly written and compellingly argued are but two of its many qualities. This will be a must read not only to those focused on modern Africa, but to anyone interested in the workings of state propaganda and the global Cold War."—Ricardo Soares de Oliveira, University of Oxford
"Moorman's incisive study argues that the medium of radio is central to the history of human actors, political movements, wars, as well as the struggle for and the exercise of power in southern Africa. Yet radio has not heretofore been an object of systematic analysis in connection to Angola. Following her groundbreaking Intonations, Moorman once again proves herself to be one of the leading scholars on this key southern African nation."—Fernando Arenas, author of Lusophone Africa: Beyond Independence
"Marissa Moorman's new book aptly captures the multiple dimensions of the enduring power of radio in mediating different historical moments in Angola. It is an excellent book that draws on multiple texts to narrate the role of radio both in Angola's independence struggle and in the post-war of era of nation building."—Dumisani Moyo, author of Radio in Africa: Publics, Cultures, Communities
"Moorman's skilled narrative style allows her to move easily in her analysis between scales ranging from the global to the densely and vividly local. At moments the text reads like a thriller, one that informs and enlightens, and also complicates how we think about radio."—Kronos
"In Moorman's analysis, radio does not just exist for its content, it exists as a particular type of modern technology whose very power stems from its capacity to act (and be acted on) by its audiences…. Powerful Frequencies tells us how and why we need to finely tune our receivers, to attend to these ranging forms of power, and to hopefully—like the Angolans that have listened so carefully—find new ways to innovate and protest."—Africa Is a Country
Ohio University Press, 9780821423707, 240pp.
Publication Date: August 20, 2019
About the Author
Marissa J. Moorman is Professor of African History and Cinema and Media Studies at Indiana University. She is the author of Intonations: A Social History of Music and Nation in Luanda, Angola, 1945 to Recent Times. She is on the editorial board of Africa Is a Country, where she regularly writes about politics and culture.
or
Not Currently Available for Direct Purchase