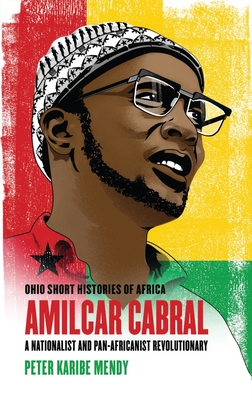 Amílcar Cabral
A Nationalist and Pan-Africanist Revolutionary (Ohio Short Histories of Africa)
Paperback

* Individual store prices may vary.
Description
Amílcar Cabral was an agronomist who led an armed struggle that ended Portuguese colonialism in Guinea-Bissau and Cabo Verde. The uprising contributed significantly to the collapse of a fascist regime in Lisbon and the dismantlement of Portugal's empire in Africa. Assassinated by a close associate with the deep complicity of the Portuguese colonial authorities, Cabral not only led one of Africa's most successful liberation movements, but was the voice and face of the anticolonial wars against Portugal.
A brilliant military strategist and astute diplomat, Cabral was an original thinker who wrote innovative and inspirational essays that still resonate today. His charismatic and visionary leadership, his active pan-Africanist solidarity and internationalist commitment to "every just cause in the world," remain relevant to contemporary struggles for emancipation and self-determination. Peter Karibe Mendy's compact and accessible biography is an ideal introduction to his life and legacy.
Praise For Amílcar Cabral: A Nationalist and Pan-Africanist Revolutionary (Ohio Short Histories of Africa)…
The 209-page book is concise and accessible … dense with facts about Cabral and about struggles for independence from Portugal more broadly. Readers will learn of the movement in Guinea-Bissau and Cabo Verde and about the broader Pan-African revolution to end colonialism. Mendy wrote Amílcar Cabral because he was inspired by him. Reading, I was also inspired, in many different ways.—Washington Post
"An indispensable book for scholars and students of African history, politics, and military studies."—Community of Gambianist Scholars
"Mendy brilliantly clarifies Cabral and his accomplishments; the historical context in which he lived; his academic and political education in Portugal; and his outstanding work as an engaged intellectual and a revolutionary leader. Readers already familiar with Cabral will find new information and insights, while Mendy's lucid and concise writing also makes this perfect for nonspecialist audiences."—Georges Nzongola-Ntalaja, author of Patrice Lumumba
"An essential work for those interested in the biographical trajectory of Cabral and his fascinating journey as a theoretician of the nationalist struggles in Guinea-Bissau, Cabo Verde, and Africa as a whole."—H-Net Reviews
Ohio University Press, 9780821423721, 238pp.
Publication Date: June 11, 2019
About the Author
Peter Karibe Mendy is professor of history and Africana studies at Rhode Island College, Providence. His numerous publications include Colonialismo Português em África: A Tradição da Resistência na Guiné-Bissau, 1879–1959 and (with coauthor Richard A. Lobban) the Historical Dictionary of the Republic of Guinea-Bissau, Volume 4.