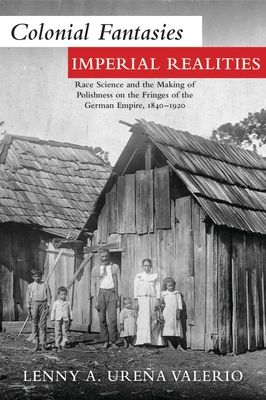 Colonial Fantasies, Imperial Realities
Race Science and the Making of Polishness on the Fringes of the German Empire, 1840–1920 (Polish and Polish American Studies)
Hardcover

* Individual store prices may vary.
Description
In Colonial Fantasies, Imperial Realities, Lenny Ureña Valerio offers a transnational approach to Polish-German relations and nineteenth-century colonial subjectivities. She investigates key cultural dynamics in the history of medicine, colonialism, and migration that bring Germany and Prussian Poland closer to the colonial and postcolonial worlds in Africa and Latin America. She also analyzes how Poles in the German Empire positioned themselves in relation to Germans and native populations in overseas colonies. She thus recasts Polish perspectives and experiences, allowing new insights into identity formation and nationalist movements within the German Empire.
Crucially, Ureña Valerio also studies the medical projects and scientific ideas that traveled from colonies to the German metropole, and vice versa, which were influential not only in the racialization of Slavic populations, but also in bringing scientific conceptions of race to the everydayness of the German Empire. As a whole, Colonial Fantasies, Imperial Realities illuminates nested imperial and colonial relations using sources that range from medical texts and state documents to travel literature and fiction. By studying these scientific and political debates, Ureña Valerio uncovers novel ways to connect medicine, migration, and colonialism and provides an invigorating model for the analysis of Polish history from a global perspective.
Praise For Colonial Fantasies, Imperial Realities: Race Science and the Making of Polishness on the Fringes of the German Empire, 1840–1920 (Polish and Polish American Studies)…
"Ureña Valerio's innovative work addresses what has been missing in recent works on the 'eastern turn' and 'colonial turn' in German studies: it integrates Polish responses to German colonial projects, both discursive and real. Another valuable contribution is her analysis of eugenics and racial hygiene discourses."—Larry Wolff, author of Inventing Eastern Europe
"This highly interesting work brings together the insights of colonial and comparative studies. Ureña Valerio applies them to the Polish-German borderland, or 'Prussian Poland,' the subject of which has until now been dominated by traditional monographs seeking to claim the land as either rightfully German or rightfully Polish. Her approach is new and refreshing."—Markus Krzoska, University of Siegen
"Stands to revolutionize how scholars conceive of imperial Germany's eastern domains as well as German-Polish and German-Slavic relations. Of great interest to an interdisciplinary audience that includes specialists of Central Europe, Germany, Poland, migration, imperialism, race, the history of medicine, and African and Latin American studies. Valerio's approach and findings are remarkably original and important, and offer an excellent example of how Central European history, and even Polish history, can be written in a global approach and in the context of European colonialism."—Peter Polak-Springer, H-Net Reviews
"(Colonial Fantasies, Imperial Realities) is not only an exceptional addition to the discussion around identity formation and the making of Polishness, but also offers new insights on colonial comparative studies, and an invaluable addition to theories of eugenics and race science in Europe."—History
Ohio University Press, 9780821423738, 320pp.
Publication Date: August 28, 2019
About the Author
Lenny A. Ureña Valerio is assistant director of the Center for Latin American Studies at the University of Florida. Her primary research and teaching interests include imperial/colonial studies, European migration to Latin America, Polish diaspora in Brazil, the history of medicine and public health, and historical methods and theories.
or
Not Currently Available for Direct Purchase