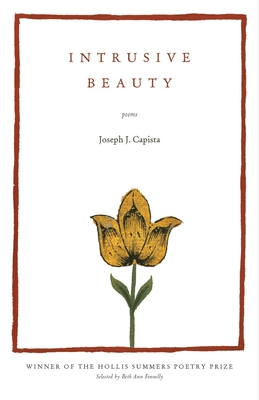 Intrusive Beauty (Paperback)
Poems (Hollis Summers Poetry Prize)
Ohio University Press, 9780821423769, 90pp.
Publication Date: March 12, 2019
* Individual store prices may vary.
Description
Winner of the 2018 Hollis Summers Poetry Prize
Joseph J. Capista's Intrusive Beauty reckons with reluctant ecstasy and the improbable forms that beauty assumes. In this powerful debut, Capista traverses earth and ether to yield poems that elucidate the space between one's life and one's livelihood. While its landscapes range from back-alley Baltimore to the Bitterroot Valley, this book remains close to unbidden beauty and its capacity to sway one's vision of the world. Whether a young father who won't lower the volume on the radio or a Victorian farm boy tasked with scaring birds from seed-sown furrows, the inhabitants of Intrusive Beauty are witness to the startling ease with which one's assorted lives come in time to comprise a singular life. Mortality, love, duty, desire, an acute longing for transcendence: here, old themes resound anew as they're uttered in a multiplicity of forms and means, holding fast always to the heart.
About the Author
Joseph J. Capista teaches at Towson University. A recipient of awards from the Bread Loaf Writers' Conference, the Sewanee Writers' Conference, the Maryland State Arts Council, and the National Endowment for the Humanities, he holds an MFA from Warren Wilson College and lives with his family in Baltimore.
Praise For Intrusive Beauty: Poems (Hollis Summers Poetry Prize)…
"Both wry and ardent, Intrusive Beauty is an immensely accomplished book. Readers have all the pleasures of great poetry here—nuanced syntax, a musician's harmonious ear, and a remarkably deft and varied handling of form.… Nothing is precious here—even the poems about fatherhood and nature, those baited traps, are leapt over by Capista's nimble speaker."—Beth Ann Fennelly, Poet Laureate of Mississippi
"Capista's choice to write about unglamorous aspects of his life is consistently surprising and offers multiple opportunities for readers to connect with his poems' narratives and the philosophical predicaments he uses those narratives to explore…[t]he book is powerful in the humility it strikes as it bears witness to the often underwhelming and still splendid life of an artist. I see myself everywhere in its breath."—Iron Horse Review
"Capista doesn't shy away from the joys of rollicking through language's innate richness of sound and meter. In his debut collection … little gems of insight and deep reflection [sparkle] throughout. [Capista] has the ability to see beauty in all places, and through his keen observations, he allows us to see this beauty, too."—Baltimore Magazine
"Capista has his hand on all aspects of this art. His craft is impeccable, often witty, and always refreshing…[t]he poet expresses essential goodness in daily acts, and takes on this art to prove it to us. This is a reward for the writer and t