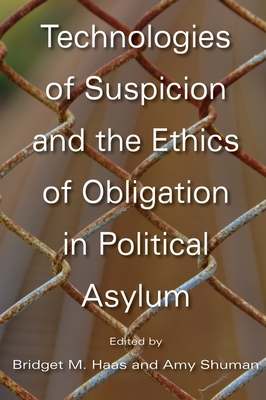 Technologies of Suspicion and the Ethics of Obligation in Political Asylum (Series in Human Security)
Hardcover

* Individual store prices may vary.
Description
Across the globe, migration has been met with intensifying modes of criminalization and securitization, and claims for political asylum are increasingly met with suspicion. Asylum seekers have become the focus of global debates surrounding humanitarian obligations, on the one hand, and concerns surrounding national security and border control, on the other. In Technologies of Suspicion and the Ethics of Obligation in Political Asylum, contributors provide fine-tuned analyses of political asylum systems and the adjudication of asylum claims across a range of sociocultural and geopolitical contexts.

The contributors to this timely volume, drawing on a variety of theoretical perspectives, offer critical insights into the processes by which tensions between humanitarianism and security are negotiated at the local level, often with negative consequences for asylum seekers. By investigating how a politics of suspicion within asylum systems is enacted in everyday practices and interactions, the authors illustrate how asylum seekers are often produced as suspicious subjects by the very systems to which they appeal for protection.

Contributors: Ilil Benjamin, Carol Bohmer, Nadia El-Shaarawi, Bridget M. Haas, John Beard Haviland, Marco Jacquemet, Benjamin N. Lawrance, Rachel Lewis, Sara McKinnon, Amy Shuman, Charles Watters
Praise For Technologies of Suspicion and the Ethics of Obligation in Political Asylum (Series in Human Security)…
"Haas and Shuman aim to clarify how asylum systems are not simply political and legal institutions but ones driven by sociocultural (sociomoral) norms, and succeed very well. Both convincing and convicting, this is a timely and necessary book."—Caron E. Gentry, author (with Laura Sjoberg) of Beyond Mothers, Monsters, Whores: Thinking about Women's Violence in Global Politics

"This is an original and much-needed collection. Haas and Shuman bring together qualitative, largely ethnographic research that is incredibly rich and offers insight into particular localities of the asylum system that do not often emerge in scholarship, such as the roles of interpreters, immigration officers, and aid workers."—Alexandria Innes, University of East Anglia
Ohio University Press, 9780821423783, 294pp.
Publication Date: March 11, 2019
About the Author
Bridget M. Haas is a National Research Service Award Fellow in the School of Medicine and an adjunct assistant professor in the Department of Anthropology at Case Western Reserve University. Her work explores the intersection of culture and trauma, with a particular focus on the lived experiences and well-being of refugees and asylum seekers in the United States.
Amy Shuman is a professor of folklore and narrative at the Ohio State University. She is a Guggenheim Fellow and the author of Storytelling Rights: The Uses of Oral and Written Communication by Urban Adolescents; Other People's Stories: Entitlement Claims and the Critique of Empathy; Rejecting Refugees: Political Asylum in the 21st Century (with Carol Bohmer); and Political Asylum Deceptions: The Culture of Suspicion (with Carol Bohmer).
or
Not Currently Available for Direct Purchase