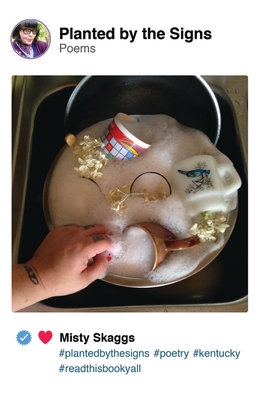 Planted by the Signs
Poems
Paperback

* Individual store prices may vary.
Description
Planted by the Signs brings us the contemporary Appalachian poetry—cultivated in the dirt of Elliott County, Kentucky—of Misty Skaggs. With an eye for details that exquisitely balance personal and social observation to communicate volumes, she tells the stories of generations of women who have learned to navigate a harsh world with a little help from the Farmers' Almanac and the stars. The collection is separated into three sections that reference the best times to grow and harvest. Knowing and following these guidelines—planting by the signs—could mean the difference between prosperity and tragedy in the lives of Appalachian families.
Personal, political, and passionate, Planted by the Signs also explores what it means for Skaggs to care for her great-grandmother at the end of her life. Color photos by the poet further showcase her sidelong and fierce outlook. The images and poems together deliver an intimate look into the day-to-day reality of a backwoods woman embracing barefooted radicalism in the only place she could call home.
Praise For Planted by the Signs: Poems…
"Last night I was reading these poems, sitting in a chair in my city living room. As I did, clover sprouted, enfolding my toes, rug turned meadow. Gooseberries draped my shoulders. Thorns pricked my neck. The heat pump blew honeysuckle and tobacco, lilac and pine. A super moon, a woman's face, broke through the window, bidding me to do right. It was weird. I recommend it."—Robert Gipe, author of Weedeater: An Illustrated Novel

"(Skaggs) has a fine ear for rural storytelling tradition, and her language, tales, and recollections thrum with authenticity….Wherever Misty Skaggs's poetry takes her, I want to be there to read it."—The Rumpus

"If the reader can embrace even just one-fourth of the gratefulness that this speaker has for the basic pleasures in life, then she will come away from this collection with a deeper sense of contentment and reverence."—Rosemary Royston, Journal of Appalachian Studies

"These are the poems we need—their surprise, their shine, their fearlessness, their joy, their brazen and unrepetant love of women the world has tried (and failed) to render invisible. If ever there was an example of the political and the personal merging with pure fearlessness and urgency, it's happening in this book by Misty Skaggs. Give yourself over to them. You'll be grateful you did."—Chanel Dubofsky, journalist & activist

"These poems are 100 percent hillbilly and smart and beautiful. Skaggs writes contemporary Appalachia with the power and grace of a young woman who knows it in her heart and her bones."—Crystal Wilkinson, author of The Birds of Opulence
Ohio University Press, 9780821423813, 112pp.
Publication Date: September 24, 2019
About the Author
Misty Skaggs was born and raised in the backwoods of Eastern Kentucky. She still lives in and works from a holler in Elliott County, where she tends to her poetry, her Mamaw, and her garden. Skaggs is an artist and activist as well as an author and editor, and her Appalachian roots are tightly entangled with all of her work.
or
Not Currently Available for Direct Purchase