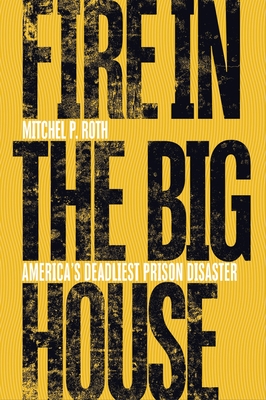 Fire in the Big House (Hardcover)
America's Deadliest Prison Disaster
Ohio University Press, 9780821423837, 320pp.
Publication Date: October 8, 2019
* Individual store prices may vary.
Description
On April 21, 1930—Easter Monday—some rags caught fire under the Ohio Penitentiary's dry and aging wooden roof, shortly after inmates had returned to their locked cells after supper. In less than an hour, 320 men who came from all corners of Prohibition-era America and from as far away as Russia had succumbed to fire and smoke in what remains the deadliest prison disaster in United States history.
Within 24 hours, moviegoers were watching Pathé's newsreel of the fire, and in less than a week, the first iteration of the weepy ballad "Ohio Prison Fire" was released. The deaths brought urgent national and international focus to the horrifying conditions of America's prisons (at the time of the fire, the Ohio Penitentiary was at almost three times its capacity). Yet, amid darkening world politics and the first years of the Great Depression, the fire receded from public concern.
In Fire in the Big House, Mitchel P. Roth does justice to the lives of convicts and guards and puts the conflagration in the context of the rise of the Big House prison model, local and state political machinations, and American penal history and reform efforts. The result is the first comprehensive account of a tragedy whose circumstances—violent unrest, overcrowding, poorly trained and underpaid guards, unsanitary conditions, inadequate food—will be familiar to prison watchdogs today.
About the Author
Mitchel P. Roth is professor of criminal justice and criminology at Sam Houston State University. The author of many books, he has appeared or been featured on the Travel Channel, CNN, Fox, Al Jazeera, the History Channel, PBS, and other media programs. He is currently writing a history of the world's prison gangs.
Praise For Fire in the Big House: America's Deadliest Prison Disaster…
"This is the first scholarly account of the conflagration that in April 1930 took the lives of 320 convicts at the Ohio State Penitentiary: it demands the attention of all who have an interest in prison history. Contained passion, painstaking research and story-telling flair—a remarkable achievement."—Seán McConville, PhD, LLD, Queen Mary University of London
"Fire in the Big House is an excellent contribution to the history of corrections. In fluid, vivid prose, Roth convincingly ties one of the worst prison tragedies to numerous contemporary corrections issues."—Norman Rose, Kent State University
"Meticulously researched and impressively detailed, Fire in the Big House revisits the haunting story of America's worst prison tragedy. Roth takes this unjustly neglected event and brings it fully to life once more, reminding readers why it is more important than ever."—Joseph F. Spillane, University of Florida