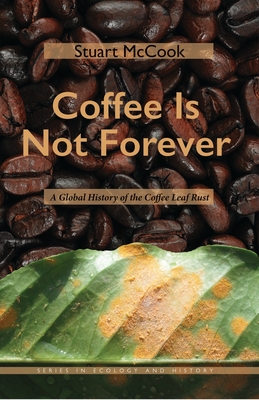 Coffee Is Not Forever (Paperback)
A Global History of the Coffee Leaf Rust (Ecology & History)
Ohio University Press, 9780821423875, 306pp.
Publication Date: October 2, 2019
Other Editions of This Title:
Hardcover (10/2/2019)
* Individual store prices may vary.
Description
The global coffee industry, which fuels the livelihoods of farmers, entrepreneurs, and consumers around the world, rests on fragile ecological foundations. In Coffee Is Not Forever, Stuart McCook explores the transnational story of this essential crop through a history of one of its most devastating diseases, the coffee leaf rust. He deftly synthesizes agricultural, social, and economic histories with plant genetics and plant pathology to investigate the increasing interdependence of the world's coffee-producing zones. In the process, he illuminates the progress and prognosis of the challenges—especially climate change—that pose an existential threat to a crop that global consumers often take for granted. And finally, in putting a tropical plant disease at the forefront, he has crafted the first truly global environmental history of coffee, pushing its study and the discipline in bold new directions.
About the Author
Stuart McCook is professor of history at the University of Guelph. His research focuses on the environmental history of tropical crops and commodities. He is also the author of States of Nature: Science, Agriculture, and Environment in the Spanish Caribbean, 1760–1940.
Praise For Coffee Is Not Forever: A Global History of the Coffee Leaf Rust (Ecology & History)…
"McCook makes crucial contributions to a number of related fields that usually don't intersect: history of science, global history, and commodity studies. His decision to focus on the science of plant disease and the politics and institutions related results in a welcome challenge to the anthropocentrism that too often dominates the study of history. With stunning breadth of research and inquiry, this is a rich and original work."—Steven C. Topik, author (with Allen Wells) of Global Markets Transformed: 1870–1945
"Coffee Is Not Forever is top-notch scholarship that provides a rare pan-tropical analysis of the interactions of people, plants, and pathogens in the coffee regions of Africa, Asia, and Latin America. This book will be of immense value to readers interested not only in coffee, but also environmental and commodity histories more broadly. Like all great transnational histories, it is both connected and comparative. And for the latte generation, this book may forever change the way they think about robusta coffee."—John Soluri, author of Banana Cultures: Agriculture, Consumption, and Environmental Change in Honduras and the United States