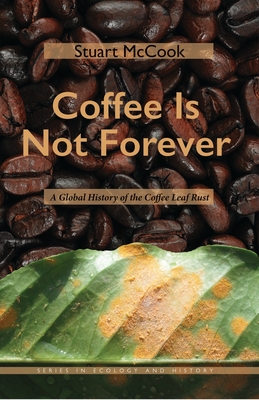 Coffee Is Not Forever
A Global History of the Coffee Leaf Rust (Ecology & History)
Paperback

* Individual store prices may vary.
Other Editions of This Title:
Hardcover (10/2/2019)
Description
The global coffee industry, which fuels the livelihoods of farmers, entrepreneurs, and consumers around the world, rests on fragile ecological foundations. In Coffee Is Not Forever, Stuart McCook explores the transnational story of this essential crop through a history of one of its most devastating diseases, the coffee leaf rust. He deftly synthesizes agricultural, social, and economic histories with plant genetics and plant pathology to investigate the increasing interdependence of the world's coffee-producing zones. In the process, he illuminates the progress and prognosis of the challenges—especially climate change—that pose an existential threat to a crop that global consumers often take for granted. And finally, in putting a tropical plant disease at the forefront, he has crafted the first truly global environmental history of coffee, pushing its study and the discipline in bold new directions.
Praise For Coffee Is Not Forever: A Global History of the Coffee Leaf Rust (Ecology & History)…
"Exhaustively researched and accessibly written, McCook offers a timely contribution with this forward-looking book, which asks us to consider what social and ecological resilience look like as we advance into an uncertain future. Though formally a work of agricultural history, it will be of use as a detailed reference for researchers outside the discipline, as well as to the particularly curious coffee afcionado."—Sabine Parrish, Agriculture and Human Values

"McCook makes crucial contributions to a number of related fields that usually don't intersect: history of science, global history, and commodity studies. His decision to focus on the science of plant disease and the politics and institutions related results in a welcome challenge to the anthropocentrism that too often dominates the study of history. With stunning breadth of research and inquiry, this is a rich and original work."—Steven C. Topik, author (with Allen Wells) of Global Markets Transformed: 1870–1945

"Coffee Is Not Forever is top-notch scholarship that provides a rare pan-tropical analysis of the interactions of people, plants, and pathogens in the coffee regions of Africa, Asia, and Latin America. This book will be of immense value to readers interested not only in coffee, but also environmental and commodity histories more broadly. Like all great transnational histories, it is both connected and comparative. And for the latte generation, this book may forever change the way they think about robusta coffee."—John Soluri, author of Banana Cultures: Agriculture, Consumption, and Environmental Change in Honduras and the United States

"There is an urgent need for books like [this]. Even as people are more attuned than ever before to the grim realities of a pandemic amidst the constant, rapid ricochet of human bodies around the planet, many remain unaware of the epidemics that rage among our most essential companion species—that is, among domesticated crops and livestock. It is possible that zoonotic diseases will garner greater attention thanks to desperate curiosity about the origins of SARS-CoV-2. Meanwhile, plant diseases will go on multiplying, with their sustained discussion unlikely outside agroindustry and agronomy. McCook's timely study makes clear the consequences of collective blindness to these ever-present epidemics in his globe-spanning, 150-year history of Hemileia vastatrix. That is the fungus responsible for coffee leaf rust, a disease for which there is no cure. The measures that have been, and still are being, taken to keep your morning coffee affordable and palatable in light of the rust might provide as much of a jolt as the java itself."—Helen Anne Curry, Environmental History
Ohio University Press, 9780821423875, 306pp.
Publication Date: October 2, 2019
About the Author
Stuart McCook is professor of history at the University of Guelph. His research focuses on the environmental history of tropical crops and commodities. He is also the author of States of Nature: Science, Agriculture, and Environment in the Spanish Caribbean, 1760–1940.
or
Not Currently Available for Direct Purchase