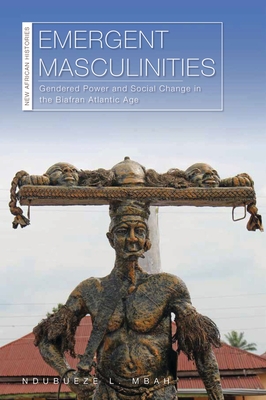 Emergent Masculinities (Paperback)
Gendered Power and Social Change in the Biafran Atlantic Age (New African Histories)
Ohio University Press, 9780821423899, 296pp.
Publication Date: October 29, 2019
Other Editions of This Title:
Hardcover (10/29/2019)
* Individual store prices may vary.
Description
In Emergent Masculinities, Ndubueze L. Mbah argues that the Bight of Biafra region's Atlanticization—or the interaction between regional processes and Atlantic forces such as the slave trade, colonialism, and Christianization—between 1750 and 1920 transformed gender into the primary mode of social differentiation in the region. He incorporates over 250 oral narratives of men and women across a range of social roles and professions with material culture practices, performance traditions, slave ship data, colonial records, and more to reveal how Africans channeled the socioeconomic forces of the Atlantic world through their local ideologies and practices. The gendered struggles over the means of social reproduction conditioned the Bight of Biafra region's participation in Atlantic systems of production and exchange, and defined the demography of the region's forced diaspora. By looking at male and female constructions of masculinity and sexuality as major indexes of social change, Emergent Masculinities transforms our understanding of the role of gender in precolonial Africa and fills a major gap in our knowledge of a broader set of theoretical and comparative issues linked to the slave trade and the African diaspora.
Praise For Emergent Masculinities: Gendered Power and Social Change in the Biafran Atlantic Age (New African Histories)…
"In a timely and necessary contribution to our understanding of the gendered threads of connection between West African communities and trans-Atlantic processes, Mbah delivers a fine-grained reading of transformations in social practice and cultural meaning among the Ohafia-Igbo people over two centuries. He thus complicates how we use gender to understand power and social meaning in broader African history and challenges presumptions about the general contours of the trans-Atlantic slave trade."—Emily S. Burrill, author of States of Marriage: Gender, Justice, and Rights in Colonial Mali