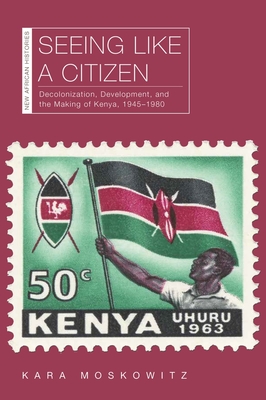 Seeing Like a Citizen
Decolonization, Development, and the Making of Kenya, 1945–1980 (New African Histories)
Paperback

* Individual store prices may vary.
Other Editions of This Title:
Hardcover (11/12/2019)
Description
In Seeing Like a Citizen, Kara Moskowitz approaches Kenya's late colonial and early postcolonial eras as a single period of political, economic, and social transition. In focusing on rural Kenyans—the vast majority of the populace and the main targets of development interventions—as they actively sought access to aid, she offers new insights into the texture of political life in decolonizing Kenya and the early postcolonial world.
Using multisited archival sources and oral histories focused on the western Rift Valley, Seeing Like a Citizen makes three fundamental contributions to our understanding of African and Kenyan history. First, it challenges the widely accepted idea of the gatekeeper state, revealing that state control remained limited and that the postcolonial state was an internally varied and often dissonant institution. Second, it transforms our understanding of postcolonial citizenship, showing that its balance of rights and duties was neither claimed nor imposed, but negotiated and differentiated. Third, it reorients Kenyan historiography away from central Kenya and elite postcolonial politics. The result is a powerful investigation of experiences of independence, of the meaning and form of development, and of how global political practices were composed and recomposed on the ground in local settings.
Praise For Seeing Like a Citizen: Decolonization, Development, and the Making of Kenya, 1945–1980 (New African Histories)…
"Impeccably researched and fluently written, Seeing Like a Citizen is the work of a skilled and diligent historian. It is a welcome and timely reorientation of the historiography of decolonizing Kenya away from some familiar themes. It is a fitting addition to the illustrious New African Histories series."—Daniel Branch, author of Kenya: Between Hope and Despair, 1963–2011
Ohio University Press, 9780821423967, 336pp.
Publication Date: November 12, 2019
About the Author
Kara Moskowitz is associate professor of African history at the University of Missouri St. Louis.