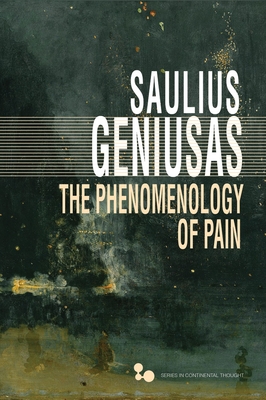 The Phenomenology of Pain (Series In Continental Thought)
Hardcover

* Individual store prices may vary.
Description
The Phenomenology of Pain is the first book-length investigation of its topic to appear in English. Groundbreaking, systematic, and illuminating, it opens a dialogue between phenomenology and such disciplines as cognitive science and cultural anthropology to argue that science alone cannot clarify the nature of pain experience without incorporating a phenomenological approach. Building on this premise, Saulius Geniusas develops a novel conception of pain grounded in phenomenological principles: pain is an aversive bodily feeling with a distinct experiential quality, which can only be given in original first-hand experience, either as a feeling-sensation or as an emotion.
Geniusas crystallizes the fundamental methodological principles that underlie phenomenological research. On the basis of those principles, he offers a phenomenological clarification of the fundamental structures of pain experience and contests the common conflation of phenomenology with introspectionism. Geniusas analyzes numerous pain dissociation syndromes, brings into focus the de-personalizing and re-personalizing nature of chronic pain experience, and demonstrates what role somatization and psychologization play in pain experience. In the process, he advances Husserlian phenomenology in a direction that is not explicitly worked out in Husserl's own writings.
Praise For The Phenomenology of Pain (Series In Continental Thought)…
"Geniusas convincingly substantiates his claim that phenomenology is essential to reconciling various elements of the slippery concept of pain, while also elegantly teaching the basic principles of phenomenology. By focusing on Husserl rather than Heidegger or Merleau-Ponty, who are more commonly invoked in the contemporary phenomenology of health, illness, and medicine, Geniusas allows for a more analytical approach to his subject."—Jenny Slatman, author of Our Strange Body: Philosophical Reflections on Identity and Medical Interventions

"Remarkable … Geniusas carries out his inquiry in a methodological commitment to Husserlian phenomenology, but in a fruitful dialogue with other phenomenological orientations and contemporary disciplines that address pain and suffering. In privileging the notion of person as an object of suffering in the life-world, he proposes a new and original perspective on chronic pain. Finally, he renders phenomenological concepts understandable to a wide audience."—Agustín Serrano de Haro, Instituto de Filosofía, Consejo Superior de Investigaciones Científicas (Madrid)
Ohio University Press, 9780821424032, 264pp.
Publication Date: February 21, 2020
About the Author
Saulius Geniusas is associate professor of philosophy at the Chinese University of Hong Kong. His research primarily focuses on phenomenology and hermeneutics. He is the author of The Origins of the Horizon in Husserl's Phenomenology, editor of numerous volumes, and author of close to fifty articles for various philosophy journals and anthologies.
or
Not Currently Available for Direct Purchase