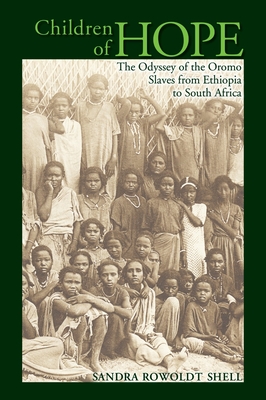 Children of Hope (Paperback)
The Odyssey of the Oromo Slaves from Ethiopia to South Africa
Ohio University Press, 9780821424056, 352pp.
Publication Date: June 14, 2019
Other Editions of This Title:
Hardcover (8/20/2018)
* Individual store prices may vary.
Description
In Children of Hope, Sandra Rowoldt Shell traces the lives of sixty-four Oromo children who were enslaved in Ethiopia in the late nineteenth century, liberated by the British navy, and ultimately sent to Lovedale Institution, a Free Church of Scotland mission in the Eastern Cape, South Africa, for their safety. Because Scottish missionaries in Yemen interviewed each of the Oromo children shortly after their liberation, we have sixty-four structured life histories told by the children themselves.
In the historiography of slavery and the slave trade, first passage narratives are rare, groups of such narratives even more so. In this analytical group biography (or prosopography), Shell renders the experiences of the captives in detail and context that are all the more affecting for their dispassionate presentation. Comparing the children by gender, age, place of origin, method of capture, identity, and other characteristics, Shell enables new insights unlike anything in the existing literature for this region and period.
Children of Hope is supplemented by graphs, maps, and illustrations that carefully detail the demographic and geographic layers of the children's origins and lives after capture. In this way, Shell honors the individual stories of each child while also placing them into invaluable and multifaceted contexts.
About the Author
Sandra Rowoldt Shell was born in Zimbabwe and has worked as a professional academic research librarian in African studies for several decades. She has focused on the history of the Eastern Cape, South Africa, in her research. She received her doctoral degree in history from the University of Cape Town. She is presently Senior Research Associate (Cory Library), Rhodes University, South Africa.
Praise For Children of Hope: The Odyssey of the Oromo Slaves from Ethiopia to South Africa…
"Shell offers intriguing range of insights into the patterns of slaving in late-nineteenth-century Oromia. These shine a suggestive light into the great void of the actual experiences of enslavement in Africa, arguably the single most pervasive motivator of historical changes in the continent for up to three centuries. She tells a dramatic story with restraint, poise, and dignity."—Joseph C. Miller, author of The Problem of Slavery as History and coeditor, Children in Slavery around the World
"Children of Hope advances our knowledge of slavery and abolition in Northeast Africa and the Indian Ocean World using a truly remarkable set of sources and a novel approach. Shell makes significant contributions to the scholarly literature by filling gaps in our knowledge of children and slavery, the practice of slave trading, and the lived experiences of liberated Africans in the Red Sea region."—Matthew S. Hopper, author of Slaves of One Master: Globalization and Slavery in Arabia in the Age of Empire