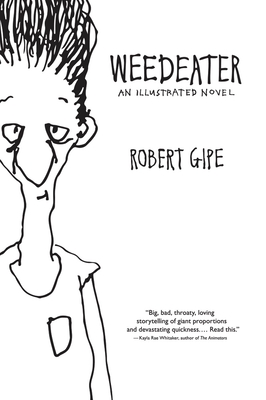 Weedeater
An Illustrated Novel
Paperback

* Individual store prices may vary.
Other Editions of This Title:
Hardcover (3/14/2018)
Description
Finalist, 2019 Weatherford Award (Fiction)
A finalist for the 2019 Weatherford Award in Fiction, Weedeater  is a contemporary story of love and loss told by a pair of eastern Kentucky mountaineers: Gene, the lovelorn landscaper who bears witness to the misadventures of a family entangled in drugs, artmaking, and politics, a family beset by both environmental and self-destruction; and Dawn Jewell, a young mother  searching—for lost family members, lost youth, lost community, and lost heart.
Picking up six years after the end of Robert Gipe's acclaimed first novel, Trampoline, in Weedeater,  the reader finds Canard County living through the last hurrah of the coal industry and the most turbulent and deadly phase of the community's battle with opioid abuse. The events Gipe chronicles are frantic. They are told through a voice by turns taciturn and angry, yet also balanced with humor and stoic grace. Weedeater  is a story about how we put our lives back together when we lose the things we thought we couldn't bear losing, how we find new purpose in what we thought were scraps and trash caught in the weeds.
Praise For Weedeater: An Illustrated Novel…
"Robert Gipe is the real deal: a genuine storyteller, a writer of wit and style, wisdom and heart. His characters are as alive as anybody I know, and his sentences jump off the page. I find myself reading them out loud to whoever's handy and saying, 'This is how it's done.'"—Jennifer Haigh, author of Heat and Light

"When [Gipe's] prose is coupled with his cartoon-like drawings in which the characters tend to stare directly at the reader, the effect is similar to watching a documentary film. … This strategy imbues his work with a kind of realism that is not quite traditional fiction and not quite a graphic novel but engrossing nonetheless. His characters come cross as absolutely real, simultaneously funny and heartbreaking."—Chapter16.org/Knoxville News-Sentinel

"Weedeater is about how to go on when your heart is broken. With a style worthy of Ray Hicks, author Robert Gipe makes his characters Dawn and Gene stare straight at you and tell what they have to tell. It is impossible to turn away from them. Their compelling tale of current Appalachia, told through true and vital language and with great compassion, is necessary reading for everyone."—Carrie Mullins, author of Night Garden

"The dialogue, with its distinct Appalachian dialect, charges Gipe's illustrated story of a tight-knit community in coal country, in which people struggle to make ends meet, raise families, maintain friendships, and survive the opioid epidemic. The many cartoons add emotional complexity to the evocative language and terrific character development."—Booklist

"(A) complicated, beautiful, heartbreaking, and hilarious story…. Gipe manages to craft characters who look around and see drug addiction and extractive industries and dysfunction—and who are funny and fierce and reflective."—Appalachian Journal
Ohio University Press, 9780821424063, 256pp.
Publication Date: February 18, 2020
About the Author
Robert Gipe lives and works in Harlan County, Kentucky. Pop is his third Ohio University Press novel. His first, Trampoline, won the 2016 Weatherford Award for Appalachian novel of the year. His second novel, Weedeater, was a Weatherford finalist. For the past thirty years he has worked in arts-based organizing and is the founding coproducer of the Higher Ground community performance series. He has contributed to numerous journals and anthologies, is a playwright, and is currently a script consultant on a forthcoming television show based on Beth Macy's Dopesick. Author photo by Amelia Kirby.