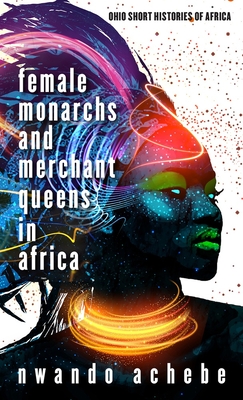 Female Monarchs and Merchant Queens in Africa (Ohio Short Histories of Africa)
Paperback

* Individual store prices may vary.
Description
An unapologetically African-centered monograph that reveals physical and spiritual forms and systems of female power and leadership in African cultures.
Nwando Achebe's unparalleled study documents elite females, female principles, and female spiritual entities across the African continent, from the ancient past to the present. Achebe breaks from Western perspectives, research methods, and their consequently incomplete, skewed accounts, to demonstrate the critical importance of distinctly African source materials and world views to any comprehensible African history. This means accounting for the two realities of African cosmology: the physical world of humans and the invisible realm of spiritual gods and forces. That interconnected universe allows biological men and women to become female-gendered males and male-gendered females. This phenomenon empowers the existence of particular African beings, such as female husbands, male priestesses, female kings, and female pharaohs. Achebe portrays their combined power, influence, and authority in a sweeping, African-centric narrative that leads to an analogous consideration of contemporary African women as heads of state, government officials, religious leaders, and prominent entrepreneurs.
Praise For Female Monarchs and Merchant Queens in Africa (Ohio Short Histories of Africa)…
"This brilliant, insightful, and accessible work by a highly gifted historian superbly maps a continent-wide articulation of women's power, influence, and authority in Africa. Achebe's African-centered and culturally grounded work mandates a rethinking of African historiography and unveils a deeper understanding of the gender question in Africa."—Obioma Nnaemeka, Chancellor's Professor, Indiana University–Purdue University Indianapolis, and author of Sisterhood, Feminisms and Power: From Africa to the Diaspora

"A must-read for all lovers of women's history and a great resource for teaching feminism, sexuality, queer identities, and governance in Africa. Indeed, Achebe deserves high praise for her very powerful contribution to gender and African history."—Bright Alozie, African Studies Review

"A brilliant, thoroughly engaging and accessible book … a fascinating and quick read that shows the many, many ways that women across the African continent have always led and continue to lead. It lays permanently to rest the notion of African women as passive or powerless and shows that women play key roles in every sector of society. It also makes a powerful case that African societies have more in common in this regard than differences, despite the continent's size and diversity. Finally, Achebe makes a welcome contribution to efforts to bring analysis of queer identities to African Studies, showing definitively that notions of gender and sexuality have long been fluid and adaptable on the continent."—Laura Seay, Washington Post

"Achebe has provided students of African and world history with an invaluable guide to the roles played by African women in politics, economics, and religion, past and present. She has done much to fill the gap left in African studies by the shortage of accessible studies such as this one."—Jonathan T. Reynolds, Regents Professor, Northern Kentucky University, and author of Sovereignty and Struggle: Africa and Africans in the Era of the Cold War, 1945–1994

"A unique volume … suitable for specialist researchers and popular audiences alike. The book is written in such a way that one could read or teach each chapter independently…. The book is accessible for undergraduate students and it contains critical analysis of key frameworks in African gender studies for researchers or graduate students."—Hilary Jones, H-Africa / H-Net Reviews
Ohio University Press, 9780821424070, 224pp.
Publication Date: July 14, 2020
About the Author
Nwando Achebe, the Jack and Margaret Sweet Endowed Professor of History at Michigan State University, is the award-winning author of six books, including Farmers, Traders, Warriors, and Kings: Female Power and Authority in Northern Igboland, 1900–1960 and The Female King of Colonial Nigeria: Ahebi Ugbabe.
or
Not Currently Available for Direct Purchase