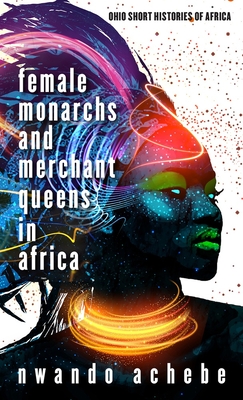 Female Monarchs and Merchant Queens in Africa (Ohio Short Histories of Africa) (Paperback)
Ohio University Press, 9780821424070, 224pp.
Publication Date: July 14, 2020
* Individual store prices may vary.
Description
In this unapologetically African-centered monograph, Nwando Achebe considers the diverse forms and systems of female leadership in both the physical and spiritual worlds, as well as the complexities of female power in a multiplicity of distinct African societies. From Amma to the goddess inkosazana, Sobekneferu to Nzingha, Nehanda to Ahebi Ugbabe, Omu Okwei, and the daughters or umuada of Igboland, Female Monarchs and Merchant Queens in Africa documents the worlds and life histories of elite African females, female principles, and (wo)men of privilege.
Chronologically and by theme, Achebe pieces together the worlds and experiences of African females from African-derived sources, especially language. Achebe explores the meaning and significance of names, metaphors, symbolism, cosmology, chronicles, songs, folktales, proverbs, oral traditions, traditions of creation, and more. From centralized to small-scale egalitarian societies, patrilineal to matrilineal systems, North Africa to sub-Saharan lands, Female Monarchs and Merchant Queens in Africa offers an unparalleled history of the remarkable African women who occupied positions of power, authority, and influence.
About the Author
Nwando Achebe, the Jack and Margaret Sweet Endowed Professor of History at Michigan State University, is the award-winning author of six books, including Farmers, Traders, Warriors, and Kings: Female Power and Authority in Northern Igboland, 1900–1960 and The Female King of Colonial Nigeria: Ahebi Ugbabe.
Praise For Female Monarchs and Merchant Queens in Africa (Ohio Short Histories of Africa)…
"Achebe has provided students of African and world history with an invaluable guide to the roles played by African women in politics, economics, and religion, past and present. She has done much to fill the gap left in African studies by the shortage of accessible studies such as this one."—Jonathan T. Reynolds, Regents Professor, Northern Kentucky University, and author of Sovereignty and Struggle: Africa and Africans in the Era of the Cold War, 1945–1994
"This brilliant, insightful, and accessible work by a highly gifted historian superbly maps a continent-wide articulation of women's power, influence, and authority in Africa. Achebe's African-centered and culturally grounded work mandates a rethinking of African historiography and unveils a deeper understanding of the gender question in Africa."—Obioma Nnaemeka, Chancellor's Professor, Indiana University–Purdue University Indianapolis, and author of Sisterhood, Feminisms and Power: From Africa to the Diaspora