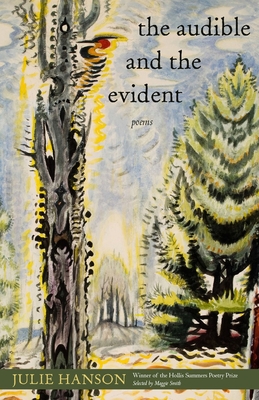 The Audible and the Evident
Poems (Hollis Summers Poetry Prize)
Paperback

* Individual store prices may vary.
Description
In this, Julie Hanson's second award-winning book, the poems inscribe deep stillness on a world of harmonies in motion. Whether composed on modern objects, say a vacuum—"part pet, part sculpture/sprawled awkwardly, still shrieking"—that evokes a sudden onrush of sobbing, or the notional movement between a plastic bag, a lawn and a return from a France not yet visited, these poems circulate among the senses as moments that pass and are recalled.
Hanson's poems investigate interiority as they resonate in the ear to excite the eye. Together, her poems illustrate the movement between and among seasons and tasks, work and leisure, solitude and people, and all through the private life as it intersects with the products and noises of industry and nature. Hanson's is a poetic realm that includes the head-splitting bright white screamings of an Indy 500 race into a zen garden, this realm we all inhabit where birdsong and squeaky water meters improvise together.
Praise For The Audible and the Evident: Poems (Hollis Summers Poetry Prize)…
"As Julie Hanson writes in the first poem in The Audible and the Evident, 'I tell you, real life is a pull and a lure / and a fling-back thing, a need / and a need and a slow-motion slide / through all sorts of partially identified / coming-right-at-you sudden matters.' Hanson's poems enact this pull and lure, this need, this shifting of gears. This poet's mind shines in the sentence-making, the line-breaking, and the tension between them. The Audible and the Evident not only gives pleasure but teaches the reader — about poem-making and about living this 'real life.'"—Maggie Smith, author of Good Bones

"Julie Hanson's poems in The Audible and the Evident are keenly attentive, subtle in their magic and mischief, and surprising in their candor and clarity. These poems place in our hearts the 'contagion of curiosity,' and make of the ordinary the extraordinary, an intricate and wondrous realm where 'possibility is constant.'"—Eric Pankey, author of Crow-Work: Poems

"The rare formal ease and grace of the poems in The Audible and the Evident are as plain and gorgeously detailed as a snowscape in Iowa. Bristling with alert attention, Julie Hanson's poems witness and recover the world of things (and things felt), caught as they are in the contingencies of time."—Jennifer Atkinson, author of The Thinking Eye

"Hanson's poetics reflect a deep attention to balance, precision, and lucidity."—Annie Kim, DMQ Review
Ohio University Press, 9780821424155, 96pp.
Publication Date: February 18, 2020
About the Author
Julie Hanson is the author of Unbeknownst, an Iowa Poetry Prize winner and 2012 Kate Tufts Discovery Award finalist. Her work has earned fellowships from the National Endowment for the Arts and the Vermont Studio Center, as well as publication in New Ohio Review, VOLT, Plume, and other journals. She holds an MFA in poetry from the Iowa Writers' Workshop.
or
Not Currently Available for Direct Purchase