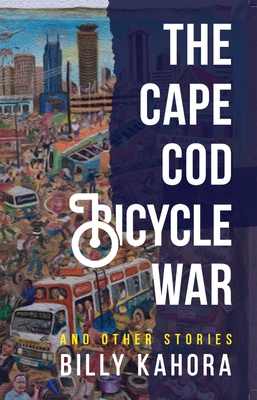 The Cape Cod Bicycle War
and Other Stories (Modern African Writing Series)
Paperback

* Individual store prices may vary.
Description
Each of the realistic worlds Billy Kahora brings us in the short stories and novella that make up The Cape Cod Bicycle War and Other Stories explores the tensions and transitions of characters moving between youthful folly and a precarious adulthood. In the title story, immigrant workers with varying ambitions work at a Wendy's in wintry Cape Cod. Sharing one house, they must also share, or rather compete for, bicycles—crucial transportation—which are in short supply.
In other stories, a young man caught between a broken family and political violence befriends an aged gorilla in a Nairobi zoo; a pastor struggles to come to terms with the arrest of his brother, who is suspected of terrorism; and a dissolute bank employee on a serious bender returns to work to face a review board.
The Cape Cod Bicycle War and Other Stories is Billy Kahora's long-awaited debut collection. Stories in this volume have appeared in Granta and McSweeney's and have been shortlisted for the Caine Prize for African Writing.
Praise For The Cape Cod Bicycle War: and Other Stories (Modern African Writing Series)…
"Billy Kahora is a painter with words. He makes the reader see and touch and smell and feel characters and their inner turmoil as they try to survive, against the challenges of nature and nurture."—Ngũgĩ wa Thiong'o

"An engaging read that captivates with its honest humour and ingenuity of narration. The author's use of language effortlessly blends English and Kiswahili in such a way that he never loses his reader. In this, Kahora matches Junot Diaz's brilliance in The Brief Wondrous Life of Oscar Wao, in which you can ably comprehend Spanish in an Anglophone narrative. The realism and the humorous rendition of ordinary lives in the stories recall the genius of Zakes Mda in Ways of Dying, Fred Khumalo's Talk of the Town, and Ayi Kwei Armah's The Beautyful Ones Are Not Yet Born, making this is a landmark text that breathes life into the canon of African literature."—Wesley Macheso, Africa in Words

"Billy Kahora's stories immerse us in a surreal, heady, wry, often beautiful, sometimes brutal, always surprising world. This is a millennial Kenya we've never seen in fiction before: drunks and zealots, farmers and whistleblowers, locals and migrants, mothers and brothers, the rich and the poor and those who slip in between. This prismatic picture of Kenyans—especially their class politics—feels startlingly precise: yes, this is exactly how people talk and hustle and love and falter. A wondrous collection."—Namwali Serpell, author of The Old Drift

"A provocative narrative of becoming and unbecoming set strongly on the canvas of a diversity of characterization that straddles Kenya but goes beyond the singularity of the geography on the surface. It is Africa's story and clearly the story of many young Africans searching for existential meaning on arid soil and mythic crossroads. The stories create awareness about the realities of a continent threatened by many fronts without pointing to a future direction. Setting the title story in the U.S. and leaving the African young people stranded there reads like a requiem to a continent fated to hardship. But these stories clearly highlight the inner recesses of the malaise that has eaten away the health of our continent for years. &ellipsis; As a contemporary collection laden with the anger of an Africa expectant of change, the collection is worth a second round of reading if not more."—Ofonime Inyang, Africa in Words

"Kahora's stories follow the Kenyan middle-class man as his mental health fails, as he leaves the country to pursue the academic ambitions that a collapsing public education system can no longer accommodate, and as he navigates desire and sex in a neoliberal state where everything can be a commodity, including marriage…. Kahora, unlike Ngugi, does not see tradition or a return to the ethnic as a way to salvation. He sees unqualified or uninterrogated allegiance to tradition, even the traditions that we build for ourselves in the city, as a sort of prison that the protagonist must be wary of."—Guernica
Ohio University Press, 9780821424162, 308pp.
Publication Date: March 24, 2020
About the Author
Billy Kahora teaches creative writing at the University of Bristol and is the former managing editor at Kwani?. His work has appeared in a number of international publications.