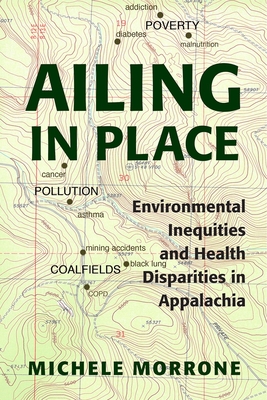 Ailing in Place (Hardcover)
Environmental Inequities and Health Disparities in Appalachia
Ohio University Press, 9780821424209, 204pp.
Publication Date: February 28, 2020
Other Editions of This Title:
Paperback (9/30/2020)
* Individual store prices may vary.
Description
In Ailing in Place, Michele Morrone explores the relationship between environmental conditions in Appalachia and health outcomes that are too often ascribed to individual choices only. She applies quantitative data to observations from environmental health professionals to frame the ways in which the environment, as a social determinant of health, leads to health disparities in Appalachian communities. These examples—these stories of place—trace the impacts of water quality, waste disposal, and natural resource extraction on the health and quality of life of Appalachian people.
Public Health is inextricably linked to place. Environmental conditions such as contaminated water, unsafe food, and polluted air are as important as culture, community, and landscape in characterizing a place and determining the health outcomes of the people who live there. In some places, the state of the environment is a consequence of historical activities related to natural resources and cultural practices. In others, political decisions to achieve short-term economic objectives are made with little consideration of long-term public health consequences.
About the Author
Michele Morrone is professor of environmental health and director of the Appalachian Rural Health Institute at Ohio University. She is coeditor (with Geoffrey L. Buckley) of Mountains of Injustice: Social and Environmental Justice in Appalachia and (with Nina E. Redman) Food Safety: A Reference Handbook.
Praise For Ailing in Place: Environmental Inequities and Health Disparities in Appalachia…
"Ailing in Place should be a reference book in the Appalachia section of every library in the country. Morrone presents one of the most informative compilations and potential correlations leading to exposures and adverse health effects to the residents of Appalachia I have ever seen."—Dr. Carolyn Harvey, Eastern Kentucky University
"Ailing in Place provides a timely new resource for Appalachian health reference, particularly for those interested in the intersection of environmental health and Appalachian studies."—F. Douglas Scutchfield, MD