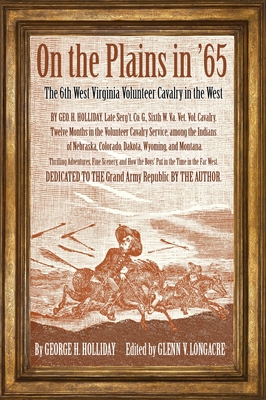 On the Plains in '65
The 6th West Virginia Volunteer Cavalry in the West (War and Society in North America)
Hardcover

* Individual store prices may vary.
Description
A new scholarly edition of an Ohio boy soldier's revealing post-Civil War memoir.
This annotated edition of Holliday's recollections—known primarily among historians of the American West—re-contextualizes his memoir to include his boyhood in southern Ohio and the largely untold story of the hundreds of Buckeyes who crossed the Ohio River to serve their country in Virginia (later West Virginia) regiments, ultimately traveling across Kansas, Nebraska, Colorado, and Wyoming to safeguard mail and stage routes along the celebrated Oregon Trail during a pivotal time in American history.
Glenn Longacre's extensive research in federal, state, and local archives, manuscript collections, and period newspapers complements his correspondence with the living descendants of Holliday and other soldiers. His research integrates this story deservedly as part of Appalachian history before, during, and after the Civil War. From this perspective it addresses an entirely new audience of Appalachian studies scholars, Civil War and frontier history enthusiasts, students, and general readers.
Praise For On the Plains in '65: The 6th West Virginia Volunteer Cavalry in the West (War and Society in North America)…
"Glenn V. Longacre has extensively annotated George H. Holliday's original manuscript, providing an up-to-date bibliography and an introduction that supplies context for Holliday's life and western adventures. All those interested in the military history of the western United States will welcome this scholarly edition of Holliday's memoirs of his service."—Nicole Etcheson, Alexander M. Bracken Professor of History, Ball State University

"For George Holliday, the Civil War did not end at Appomattox. As thousands of Union soldiers trundled north, the cavalryman lurched west, where punitive expeditions, guard duties, and a bone-chilling winter awaited. Decades later, crooked by rheumatism and in need of a pension, the veteran produced a memoir. Expertly introduced and annotated by Glenn Longacre, it affords a welcome look at frontier army life: when Union soldiers turned their attention from southern rebels to indigenous peoples."—Brian Matthew Jordan, Pulitzer Prize finalist for Marching Home: Union Veterans and Their Unending Civil War

"An invaluable contribution to nineteenth-century American History, this new edition of On the Plains in '65 is an unreservedly recommended addition to community, college, and university library American Civil War, biography, and Native American history collections and supplemental curriculum studies lists. It should be noted for the personal reading lists of students, academia, Civil War history buffs, and non-specialist general readers with an interest in the subject that [the title] is also readily available in a digital book format."—Midwest Book Review
Ohio University Press, 9780821424285, 258pp.
Publication Date: January 12, 2021
About the Author
George H. Holliday was born in the southern Ohio village of Pomeroy in 1847. At age fifteen he enlisted in a West Virginia Cavalry regiment. In June 1865 Holliday and his comrades in the Sixth West Virginia Veteran Volunteer Cavalry were transferred west to guard stations along the Oregon Trail. After his return to Ohio in 1866, Holliday married, began a family, and settled in Ironton, where he engaged in the stove manufacturing industry. Later, Holliday moved to Knoxville, Tennessee. He died in 1919.
Glenn V. Longacre is an archivist with the National Archives at Chicago. Prior to that he worked at the Ohio Historical Society in Columbus. A West Virginia native, he holds a BA in history and MA in public history from West Virginia University. He is coeditor of To Battle for God and the Right: The Civil War Letterbooks of Emerson Opdycke.