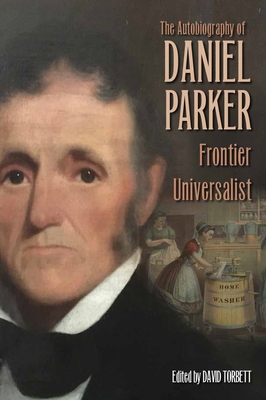 The Autobiography of Daniel Parker, Frontier Universalist
Hardcover

* Individual store prices may vary.
Description
A vastly informative and rare early-American pioneer autobiography rescued from obscurity.
In this remarkable memoir, Daniel Parker (1781–1861) recorded both the details of everyday life and the extraordinary historical events he witnessed west of the Appalachian Mountains between 1790 and 1840. Once a humble traveling salesman for a line of newly invented clothes washing machines, he became an outspoken advocate for abolition and education. With his wife and son, he founded Clermont Academy, a racially integrated, coeducational secondary school—the first of its kind in Ohio.
However, Parker's real vocation was as a self-ordained, itinerant preacher of his own brand of universal salvation. Raised by Presbyterian parents, he experienced a dramatic conversion to the Halcyon Church, an alternative, millenarian religious movement led by the enigmatic prophet Abel Sarjent, in 1803. After parting ways with the Halcyonists, he continued his own biblical and theological studies, arriving at the universalist conclusions that he would eventually preach throughout the Ohio River Valley.
David Torbett has transcribed Parker's manuscript and publishes it here for the first time, together with an introduction, epilogue, bibliography, and extensive notes that enrich and contextualize this rare pioneer autobiography.
Praise For The Autobiography of Daniel Parker, Frontier Universalist…
"David Torbett's research for this project has been nothing short of staggeringly impressive. He has immersed himself in the major currents of religious history, especially the history of Universalism, but also topics such as the Mormon church and sectarianism. He shows broad knowledge on the background of colonization, anti-slavery and abolitionism, other reform movements including temperance and women's rights as well as the 'cult of true womanhood,' Native American history, the history of the War of 1812, aspects of travel, frontier, and the history of inventions. His astoundingly extensive notes bear witness to a scholar determined to complete thorough and meticulous research and thus give proper context to the autobiography."—Ann Lee Bressler, author of The Universalist Movement in America, 1770–1880

"David Torbett has mined nearly every piece of historical ore out of The Autobiography of Daniel Parker. His research is flawless, his interpretation insightful. This book is an important read for anyone wishing to understand the development of abolitionist thought in the Midwest."—Brian L. Hackett, associate professor of public history, Northern Kentucky University
Ohio University Press, 9780821424292, 304pp.
Publication Date: December 15, 2020
About the Author
Daniel Parker (1781–1861) was among the early migrants from New England to settle in Ohio. He was a preacher of the millenarian Halcyon Church and later a traveling washing machine salesman before settling on a lifelong career as an itinerant Universalist evangelist. He was also an abolitionist and cofounder of the racially integrated Clermont Academy.
David Torbett is an associate professor of religion and history at Marietta College in Ohio. He is the author of Theology and Slavery: Charles Hodge and Horace Bushnell.
or
Not Currently Available for Direct Purchase