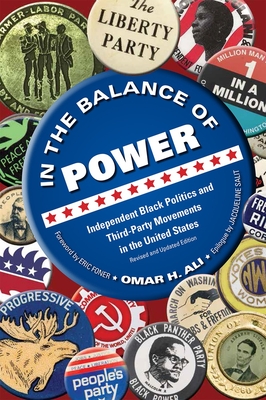 In the Balance of Power (Paperback)
Independent Black Politics and Third-Party Movements in the United States
Ohio University Press, 9780821424346, 304pp.
Publication Date: August 18, 2020
* Individual store prices may vary.
Description
REVISED AND EXPANDED EDITION
Reveals the multiple independent political tactics and strategies that African Americans have used to expand democracy and uphold civil and political rights since the founding of the nation.
This new edition of Ali's groundbreaking narrative includes an epilogue by independent political analyst and leader Jacqueline Salit. New material addresses the historic presidencies of both Barack Obama and Donald Trump, as well as the rising tide of independent and anti-party sentiments.
About the Author
Omar H. Ali is dean of Lloyd International Honors College and professor of global and comparative African diaspora history at the University of North Carolina, Greensboro. A graduate of the London School of Economics, he received his Ph.D. in history from Columbia University and was named the Carnegie Foundation North Carolina professor of the year.
Praise For In the Balance of Power: Independent Black Politics and Third-Party Movements in the United States…
"Ali's profound scholarship has finally given the disciplines of political science, history, sociology, and African American studies a holistic political portrait. It is a landmark work."—National Political Science Review
"One of the many virtues of Omar Ali's account lies in highlighting the variety of political structures and strategies blacks have chosen over the course of American history in pursuing the goal of racial justice. Independent politics… has a long history, which, as Ali shows, has at many points energized the black community and helped to make America a better place for all its people."—Eric Foner, from the foreword
"Captures the most important nuances of the ways that African Americans have fought for their own political and economic interests."—Journal of African American Studies
"Ali shows that there are competing ideological traditions in black thought and that black voters will use other means to advance their interests when they are shut out by the two major parties."—Journal of American Ethnic History
"In the Balance of Power makes important contributions to the field of third-party politics."—Journal of African American History