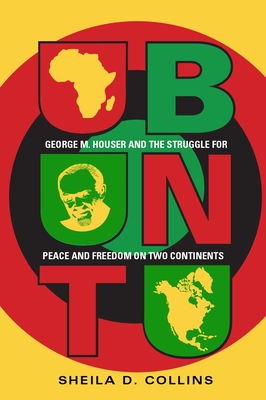 Ubuntu
George M. Houser and the Struggle for Peace and Freedom on Two Continents
Paperback

* Individual store prices may vary.
Other Editions of This Title:
Hardcover (10/30/2020)
Description
This remarkable biography features a white American pacifist minister whose tireless work for justice and human rights helped reshape Black civil rights in the U.S. and Africa.
George M. Houser (1916–2015) was one of the most important civil rights and antiwar activists of the twentieth century. A conscientious objector during World War II, in 1942 Houser cofounded and led the Congress of Racial Equality (CORE), whose embrace of nonviolent protest strategies and tactics characterized the modern American Civil Rights Movement. Beginning in the 1950s, Houser played a critical role in pan-Africanist anticolonial movements, and his more than thirty-year dedication to the cause of human rights and self-determination helped prepare the ground for the toppling of the South African apartheid regime.
Throughout his life, Houser shunned publicity, preferring to let his actions speak his faith. Sheila Collins's well-researched biography recounts the events that informed Houser's life of activism—from his childhood experiences as the son of missionaries in the Philippines to his early grounding in the Social Gospel and the teachings of Mohandas Gandhi. In light of the corruption the U.S. and the world face today, Houser's story of faith and decisive action for human rights and social justice is one for our time.
Praise For Ubuntu: George M. Houser and the Struggle for Peace and Freedom on Two Continents…
"Highly recommended."—Choice

"Sheila D. Collins, one of the most prolific—and progressive—authors of her generation, has just gifted us with her latest work, a biography of the anti-apartheid activist George Houser. Deftly written and passionately argued, this is the definitive account of one of the most important US activists of the latter part of the twentieth century."—Gerald Horne, Moores Professor of History and African American Studies, University of Houston

"This book will inspire you to follow your social justice conscience and act. George Houser spent his life acting for and with people whose voices had been muted by oppression. He challenged unjust wars, racial segregation in the United States, and colonialism across the globe and, especially, in Africa. For me he will be best be remembered for fighting apartheid. I was lucky to join him in the latter years of the struggle and to stand together on the steps of the Union Buildings in Pretoria at Nelson Mandela's inauguration. George Houser is nothing short of a hero. His story has been brilliantly told by Sheila Collins and is a must read for anyone seeking inspiration that anything and everything is possible."—Richard Lapchick, director of the Institute for Diversity and Ethics in Sport and president of the Institute for Sport and Social Justice
Ohio University Press, 9780821424506, 392pp.
Publication Date: June 18, 2021
About the Author
Sheila D. Collins is professor emerita of political science at William Paterson University. She is the author or coauthor of seven books and numerous articles, book chapters, and encyclopedia entries on politics and public policy, the environment, social movements, and religion.