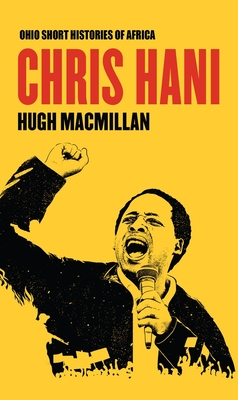 Chris Hani (Ohio Short Histories of Africa)
Paperback

* Individual store prices may vary.
Other Editions of This Title:
Paperback (7/2/2018)
Description
This biography shows how Black political leader Chris Hani's life and death were pivotal to ending apartheid and to establishing a democratic government in South Africa.
Chris Hani is one of the most iconic figures in South Africa's history, as a leader within the African National Congress (ANC) and as chief of staff of uMkhonto we Sizwe, the armed wing of the ANC. His assassination in 1993 by a far-right militant threatened negotiations to end apartheid and install a democratic government. Serious tensions followed the assassination, leading Nelson Mandela to address the nation in an effort to avert further violence:
Tonight I am reaching out to every single South African, black and white, from the very depths of my being. A white man, full of prejudice and hate, came to our country and committed a deed so foul that our whole nation now teeters on the brink of disaster. A white woman, of Afrikaner origin, risked her life so that we may know, and bring to justice, this assassin. The cold-blooded murder of Chris Hani has sent shock waves throughout the country and the world… Now is the time for all South Africans to stand together against those who, from any quarter, wish to destroy what Chris Hani gave his life for: the freedom of all of us.
Hugh Macmillan's concise biography details Hani's important role in shaping twentieth-century South African history.
Praise For Chris Hani (Ohio Short Histories of Africa)…
"Hugh Macmillan's astute scholarship, literary skill, and close proximity to the legendary Chris Hani combine to make this book an engrossing portrayal of South Africa's iconic guerrilla commander and communist leader. I read it at one unputdownable session and, as much as I intimately knew Chris Hani, learnt much from, and enjoyed, the author's unique insight."—Ronnie Kasrils, antiapartheid struggle veteran, former South African government minister, and author

"A much-needed biography of a significant political figure, Hugh Macmillan's Chris Hani is the standard account of a man increasingly enveloped in myth."—Jonny Steinberg, professor of African studies, Oxford University

"Macmillan's short biography of SACP general secretary and ANC/MK leader Chris Hani is both accessible and academically rigorous, providing the best available introduction to Hani's life, leadership style, political vision, and human qua
Ohio University Press, 9780821424544, 152pp.
Publication Date: February 15, 2021
About the Author
Hugh Macmillan has taught at universities in Zambia, South Africa, and Eswatini. He has published widely on the history of the ANC and other southern African topics. He is a research associate at the African Studies Centre, Oxford University.