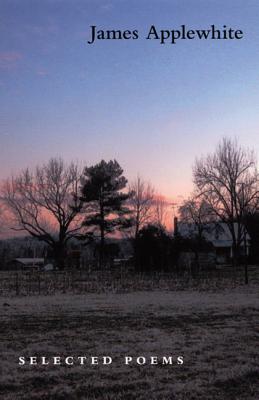 Selected Poems
Paperback

* Individual store prices may vary.
Description
James Applewhite has produced nine extraordinary books of poetry. This volume is the first anthology of his remarkable oeuvre. It brings together chronologically arranged selections from all of his previous books, from the first, published in 1975, through the most recent, published in 2002. Applewhite's poetry is deeply rooted in the history and rhythms of rural North Carolina, where he was born and raised, and these poems mark stages in an artistic and personal journey he has undertaken over the past thirty years.
In impeccable and surprising language, Applewhite depicts the social conventions, changes, frictions, and continuities of small southern towns. He celebrates that which he values as decent and life-enhancing, and his veneration is perhaps most apparent in his response to the natural world, to the rivers and trees and flowers. Yet Applewhite's love for his native land is not straightforward. His verse chronicles his conflicted feelings for the region that gave him the initial, evocative language of place and immersed him in a blazing sensory world while it also bequeathed the distortions, denials, and prejudices that make it so painful a labyrinth. Rendering troubled legacies as well as profound decency, Applewhite reveals the universally human in a distinctively local voice, within dramatic and mundane moments of hope and sorrow and faith.
Duke University Press, 9780822336396, 171pp.
Publication Date: July 25, 2005
About the Author
James Applewhite's books of poetry include A Diary of Altered Light (forthcoming), Quartet for Three Voices (2002), Daytime and Starlight (1997), and A History of the River (1993). He has received numerous awards, including the American Academy and Institute of Arts and Letters Jean Stein Award in Poetry, the Associated Writing Programs Award in Poetry, and the North Carolina Award in Literature. Applewhite is Professor of English at Duke University, where he has taught since 1972.