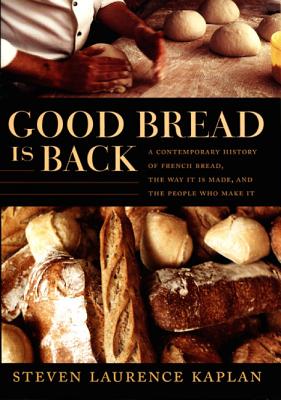 Good Bread Is Back-CL (Hardcover)
Duke University Press, 9780822338338, 384pp.
Publication Date: December 20, 2006
Other Editions of This Title:
Paperback (2/16/2015)
* Individual store prices may vary.
Description
Good Bread Is Back
is a beautifully illustrated book for foodies and Francophiles alike. Widely recognized as a leading expert on French bread, the historian Steven Laurence Kaplan takes readers into aromatic Parisian bakeries as he explains how good bread began to reappear in France in the 1990s, following almost a century of decline in quality.
Kaplan sets the stage for the comeback of good bread by describing how, while bread comprised the bulk of the French diet during the eighteenth century, by the twentieth, per capita consumption had dropped off precipitously. This was largely due to social and economic modernization and the availability of a wider choice of foods. But part of the problem was that the bread did not taste good. Centuries-old artisanal breadmaking techniques were giving way to conveyor belts that churned out flavorless fluff. In a culture in which bread is sacrosanct, bad bread was more than a gastronomical disappointment; it was a threat to France's sense of itself. With a nudge from the millers (who make the flour) and assistance from the government, bakers rallied, reclaiming their reputations as artisans by marketing their traditionally made loaves as the authentic French bread.
By the mid-1990s, bread officially designated as "bread of the French tradition"--bread made without additives or freezing--was in demand throughout Paris. What makes this artisanal bread good? Kaplan explains, meticulously describing the ideal crust and crumb (interior), mouth feel, aroma, and taste. He discusses the breadmaking process in extraordinary detail, from the ingredients to the kneading, shaping, and baking, and even to the sound bread should make when it comes out of the oven. He offers a system for assessing bread's quality and a language for discussing its attributes. A historian and a connoisseur, Kaplan does more than tell the story of the revival of good bread in France. He makes the reader see, smell, taste, feel, and even hear why it is so very wonderful that good bread is back.
About the Author
Steven Laurence Kaplan is the Goldwin Smith Professor of European History at Cornell University and Visiting Professor of Modern History at the University of Versailles, Saint-Quentin. His many books include a guide to the best bread in Paris, Cherchez le pain: Guide des meilleures boulangeries de Paris, and The Bakers of Paris and the Bread Question, 1770-1775, also published by Duke University Press. The French government has twice knighted Kaplan for his contributions to the "sustenance and nourishment" of French culture.
or
Not Currently Available for Direct Purchase