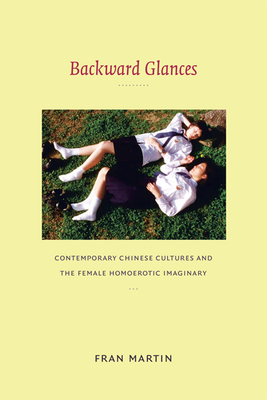 Backward Glances (Paperback)
Contemporary Chinese Cultures and the Female Homoerotic Imaginary (Asia-Pacific: Culture)
Duke University Press, 9780822346807, 290pp.
Publication Date: April 19, 2010
* Individual store prices may vary.
Description
Backward Glances
reveals that the passionate love one woman feels for another occupies a position of unsuspected centrality in contemporary Chinese mass cultures. By examining representations of erotic and romantic love between women in popular films, elite and pulp fiction, and television dramas, Fran Martin shows how youthful same-sex love is often framed as a universal, even ennobling, feminine experience. She argues that a temporal logic dominates depictions of female homoeroticism, and she traces that logic across texts produced and consumed in mainland China, Hong Kong, and Taiwan during the twentieth century and the early twenty-first. Attentive to both transnational cultural flows and local particularities, Martin shows how loving relations between women in mass culture are usually represented as past experiences. Adult protagonists revel in the repeated, mournful narration of their memories. Yet these portrayals do not simply or finally consign the same-sex loving woman to the past they also cause her to reappear ceaselessly in the present.
As Martin explains, memorial schoolgirl love stories are popular throughout contemporary Chinese cultures. The same-sex attracted young woman appears in both openly homophobic and proudly queer-affirmative narratives, as well as in stories whose ideological valence is less immediately clear. Martin demonstrates that the stories, television programs, and films she analyzes are not idiosyncratic depictions of marginal figures, but manifestations of a broader, mainstream cultural preoccupation. Her investigation of representations of same-sex love between women sheds new light on contemporary Chinese understandings of sex, love, gender, marriage, and the cultural ordering of human life.

About the Author
Fran Martin is a Senior Lecturer in Cultural Studies at the University of Melbourne. She is the author of Situating Sexualities: Queer Representation in Taiwanese Fiction, Film, and Public Culture and a co-editor of AsiaPacifiQueer: Rethinking Genders and Sexualities; Embodied Modernities: Corporeality, Representation, and Chinese Cultures; and Mobile Cultures: New Media in Queer Asia, also published by Duke University Press.
or
Not Currently Available for Direct Purchase