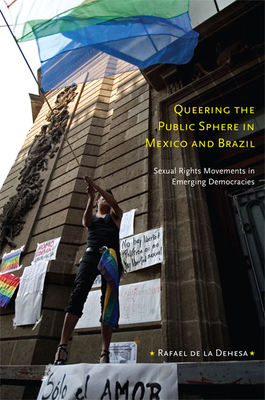 Queering the Public Sphere in Mexico and Brazil (Paperback)
Sexual Rights Movements in Emerging Democracies
Duke University Press, 9780822347248, 300pp.
Publication Date: May 21, 2010
Other Editions of This Title:
Hardcover (5/21/2010)
* Individual store prices may vary.
Description
Queering the Public Sphere in Mexico and Brazil
is a groundbreaking comparative analysis of the historical development and contemporary dynamics of LGBT activism in Latin America's two largest democracies. Rafael de la Dehesa focuses on the ways that LGBT activists have engaged with the state, particularly in alliance with political parties and through government health agencies in the wake of the AIDS crisis. He examines this engagement against the backdrop of the broader political transitions to democracy, the neoliberal transformation of state-civil society relations, and the gradual consolidation of sexual rights at the international level. His comparison highlights similarities between sexual rights movements in Mexico and Brazil, including a convergence on legislative priorities such as antidiscrimination laws and the legal recognition of same-sex couples. At the same time, de la Dehesa points to notable differences in the tactics deployed by activists and the coalitions brought to bear on the state.
De la Dehesa studied the archives of activists, social-movement organizations, political parties, religious institutions, legislatures, and state agencies, and he interviewed hundreds of individuals, not only LGBT activists, but also feminists, AIDS and human-rights activists, party militants, journalists, academics, and state officials. He marshals his prodigious research to reveal the interplay between evolving representative institutions and LGBT activists' entry into the political public sphere in Latin America, offering a critical analysis of the possibilities opened by emerging democratic arrangements, as well as their limitations. At the same time, exploring activists' engagement with the international arena, he offers new insights into the diffusion and expression of transnational norms inscribing sexual rights within a broader project of liberal modernity. Queering the Public Sphere in Mexico and Brazil is a landmark examination of LGBT political mobilization.
About the Author
Rafael de la Dehesa is Assistant Professor in the Department of Sociology, Anthropology, and Social Work at the City University of New York, College of Staten Island.
or
Not Currently Available for Direct Purchase