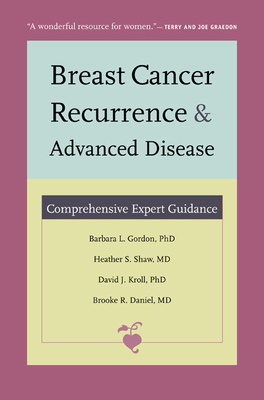 Breast Cancer Recurrence and Advanced Disease
Comprehensive Expert Guidance
Paperback

* Individual store prices may vary.
Other Editions of This Title:
Hardcover (9/7/2010)
Description
At age 42, Barbara L. Gordon was diagnosed with Stage II breast cancer. Two years later, it appeared that the cancer had metastasized. Along with her oncologist and other experts, Gordon has written the book that she wished she had as she faced late-stage breast cancer and the prospect of dying from the disease. Filled with information and advice, and designed to enable informed decisions and improved quality of life, this comprehensive guide gathers in one place authoritative medical information about recurrence and late-stage breast cancer, and it addresses the practical, emotional, spiritual, and interpersonal aspects of dying and death.
This indispensable book aids those diagnosed with recurrent or late-stage breast cancer, those wanting to reduce the chance of a recurrence, and those with other types of late-stage cancer. It is also a valuable resource for healthcare professionals, friends, and family members.
Topics covered include
- Types of recurrence, their symptoms, and ways of minimizing the chance of a recurrence
- Diagnostic tests, potential surgeries, and treatments to manage late-stage cancer
- Getting the best care, evaluating complementary therapies, and alleviating pain and depression
- Cessation of treatment and what one may experience as the disease progresses
- End-of-life issues including dealing with financial and legal matters, communicating with loved ones and hospice workers, and planning memorial services
Breast Cancer Recurrence and Advanced Disease includes a glossary of medical terms, appendices on nutrition and integrative health centers, and links to current Web sites addressing matters such as clinical trials, patients' rights, and medical expenses.
Duke University Press, 9780822347637, 356pp.
Publication Date: August 1, 2010
About the Author
Barbara L. Gordon, Ph.D., is Associate Professor of English at Elon University in North Carolina.Heather S. Shaw, M.D., was a breast oncology clinician, from 1999 to 2009, and Assistant Professor of Medicine at Duke University Medical Center in the Multidisciplinary Breast Program of the Duke Comprehensive Cancer Center. She is pursuing a Master of Public Health degree at the University of North Carolina, Chapel Hill.David J. Kroll, Ph.D., is Professor and Chair of Pharmaceutical Sciences at North Carolina Central University, Adjunct Associate Professor of Medicine at Duke University, and Adjunct Associate Professor of Pharmacology at the University of North Carolina, Chapel Hill.Brooke Ratliff Daniel, M.D., is a private practice medical oncologist at Chattanooga Oncology and Hematology Associates in Tennessee.