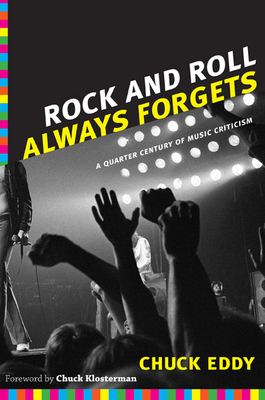 Rock and Roll Always Forgets (Paperback)
A Quarter Century of Music Criticism
Duke University Press, 9780822350101, 335pp.
Publication Date: July 20, 2011
* Individual store prices may vary.
Description
Chuck Eddy is one of the most entertaining, idiosyncratic, influential, and prolific music critics of the past three decades. His byline has appeared everywhere from the Village Voice and Rolling Stone to Creem, Spin, and Vibe. Eddy is a consistently incisive journalist, unafraid to explore and defend genres that other critics look down on or ignore. His interviews with subjects ranging from the Beastie Boys, the Pet Shop Boys, Robert Plant, and Teena Marie to the Flaming Lips, AC/DC, and Eminem's grandmother are unforgettable. His review of a 1985 Aerosmith album reportedly inspired the producer Rick Rubin to pair the rockers with Run DMC. In the eighties, Eddy was one of the first critics to widely cover indie rock, and he has since brought his signature hyper-caffeinated, hyper-hyphenated style to bear on heavy metal, hip-hop, country you name it. Rock and Roll Always Forgets features the best, most provocative reviews, interviews, columns, and essays written by this singular critic. Essential reading for music scholars and fans, it may well be the definitive time-capsule comment on pop music at the turn of the twenty-first century.
About the Author
Chuck Eddy is an independent music journalist living in Austin, Texas. Formerly the music editor at the Village Voice and a senior editor at Billboard, he is the author of The Accidental Evolution of Rock 'n' Roll: A Misguided Tour through Popular Music and Stairway to Hell: The 500 Best Heavy Metal Albums in the Universe. Chuck Klosterman is a freelance journalist and the author of numerous books, including Sex, Drugs, and Cocoa Puffs: A Low Culture Manifesto and Fargo Rock City: A Heavy Metal Odyssey in Rural North Dakota.
or
Not Currently Available for Direct Purchase