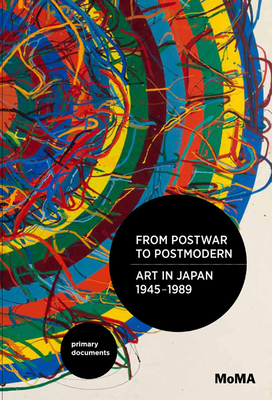 From Postwar to Postmodern, Art in Japan, 1945-1989
Primary Documents (Moma Primary Documents)
Paperback

* Individual store prices may vary.
Description
A trove of primary source materials,
From Postwar to Postmodern, Art in Japan 1945-1989
is an invaluable scholarly resource for readers who wish to explore the fascinating subject of avant-garde art in postwar Japan. In this comprehensive anthology, an array of key documents, artist manifestos, critical essays, and roundtable discussions are translated into English for the first time. The pieces cover a broad range of artistic mediums--including photography, film, performance, architecture, and design--and illuminate their various points of convergence in the Japanese context.
The collection is organized chronologically and thematically to highlight significant movements, works, and artistic phenomena, such as the pioneering artist collectives Gutai and Hi Red Center, the influential photography periodical Provoke, and the emergence of video art in the 1980s. Interspersed throughout the volume are more than twenty newly commissioned texts by contemporary scholars. Including Bert Winther-Tamaki on art and the Occupation and Reiko Tomii on the Yomiuri Independent Exhibition, these pieces supplement and provide a historical framework for the primary source materials. From Postwar to Postmodern, Art in Japan 1945-1989 offers an unprecedented look at over four decades of Japanese art--both as it unfolded and as it is seen from the perspective of the present day.
Publication of The Museum of Modern Art
Duke University Press, 9780822353683, 464pp.
Publication Date: December 3, 2012
About the Author
Doryun Chong is Associate Curator of Painting and Sculpture at the Museum of Modern Art.Michio Hayashi is Professor in the Faculty of Liberal Arts at Sophia University in Tokyo.Kenji Kajiya is Associate Professor in the Faculty of Arts at Hiroshima City University.Fumihiko Sumitomo is an accomplished independent curator in Tokyo.
or
Not Currently Available for Direct Purchase