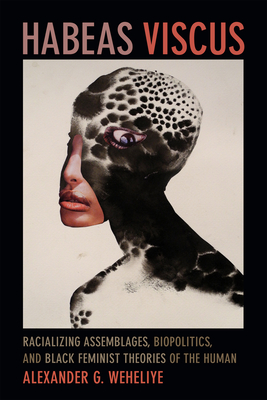 Habeas Viscus
Racializing Assemblages, Biopolitics, and Black Feminist Theories of the Human
Paperback

* Individual store prices may vary.
Other Editions of This Title:
Hardcover (8/20/2014)
Description
Habeas Viscus focuses attention on the centrality of race to notions of the human. Alexander G. Weheliye develops a theory of "racializing assemblages," taking race as a set of sociopolitical processes that discipline humanity into full humans, not-quite-humans, and nonhumans. This disciplining, while not biological per se, frequently depends on anchoring political hierarchies in human flesh. The work of the black feminist scholars Hortense Spillers and Sylvia Wynter is vital to Weheliye's argument. Particularly significant are their contributions to the intellectual project of black studies vis- -vis racialization and the category of the human in western modernity. Wynter and Spillers configure black studies as an endeavor to disrupt the governing conception of humanity as synonymous with white, western man. Weheliye posits black feminist theories of modern humanity as useful correctives to the "bare life and biopolitics discourse" exemplified by the works of Giorgio Agamben and Michel Foucault, which, Weheliye contends, vastly underestimate the conceptual and political significance of race in constructions of the human. Habeas Viscus reveals the pressing need to make the insights of black studies and black feminism foundational to the study of modern humanity.
Duke University Press, 9780822357018, 224pp.
Publication Date: August 20, 2014
About the Author
Alexander G. Weheliye is Professor of African American Studies and English at Northwestern University. He is the author of Phonographies: Grooves in Sonic Afro-Modernity, also published by Duke University Press.